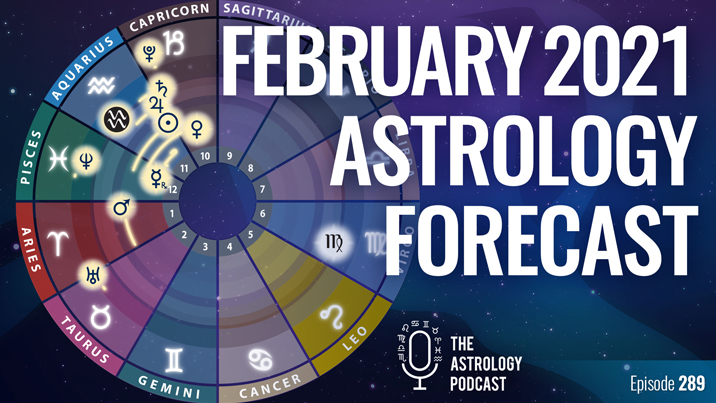 In episode 289 astrologers Kelly Surtees, Austin Coppock, and Chris Brennan look at the astrological forecast for February of 2021.
February features the first of three exact Saturn-Uranus squares this year, plus a stellium of planets in Aquarius, and a Mercury retrograde in Aquarius.
We spend the first 30-40 minutes giving an overview of some of the major themes that have been occurring since our last forecast in mid-December, and then we get into a more detailed breakdown of the transits for February.
This episode is available in both audio and video versions below.
2021 Auspicious Elections Report and Astrology Calendars
The Astrology Podcast has released our annual electional report and calendars!
The Mountain Astrologer Magazine
Our sponsor for this episode is The Mountain Astrologer magazine:
Current Offerings From Kelly, Austin, and Chris
You can find out more about our work on our websites:
Auspicious Astrological Date for February
The most auspicious astrological date we could find in February is:
February 21, 2021, at approximately 11:00 AM local time, with Gemini rising
There are a few other charts for February that will present on our private subscriber-only electional astrology podcast.
Timestamps
Here are some timestamps for topics covered at different points in the episode:
00:00:00 Intro
00:03:14 Visuals of February
00:04:42 Overview of February
00:05:07 Saturn Uranus square
00:06:03 Mars in Taurus January 6
00:08:10 Saturn Uranus themes
00:13:41 Stock market volatility
00:24:06 January 6 riots/insurrection
00:30:19 Mars Uranus Inauguration day
00:32:28 Saturn Jupiter conjunction
00:37:33 Aquarius assembly/stellium
00:45:55 Mercury retrograde in Aquarius
01:06:57 Venus enters Aquarius Feb 1
01:13:41 Sun Mercury conjunction Feb 7
01:14:24 Mercury retrograde into Mars Feb 10
01:15:37 New Moon in Aquarius Feb 11
01:18:52 Venus Jupiter
01:22:23 The morality of Aquarius
01:23:36 Aquarius in birth charts
01:31:11 Mercury conjunct Venus Feb 12
01:31:30 Mercury conjunct Jupiter Feb 14
01:32:10 1st Saturn Uranus square Feb 17
01:36:42 Sun enters Pisces Feb 18
01:37:02 Mercury direct Feb 20
01:37:25 Venus squares Mars Feb 19
01:39:37 Auspicious election chart
01:44:30 Venus enter Pisces Feb 25
01:46:45 Full Moon in Virgo Feb 27
01:52:38 The Mountain Astrologer magazine
01:56:48 Upcoming projects
Watch the Video Version of This Episode
You can watch the video version of our February astrology forecast here:
–
Listen to the Audio Version of This Episode
You can either play the audio version of this episode of the podcast directly from the website or download it as an MP3 to your device by using the buttons below:
Podcast: Play in new window | Download (Duration: 2:06:36 — 116.2MB)
Subscribe: Google Podcasts | Stitcher | RSS | More