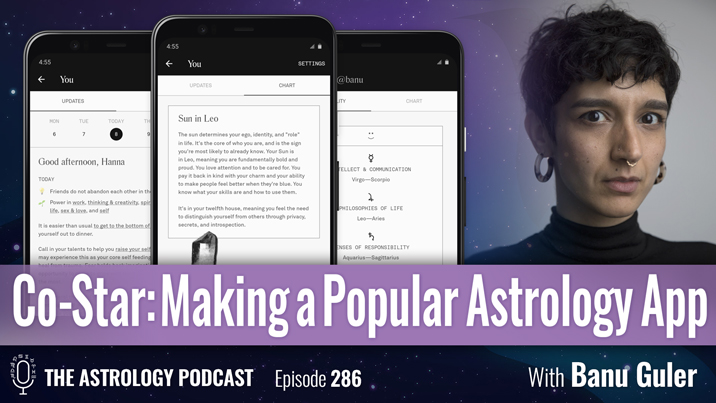 Episode 286 features an interview with astrologer Banu Guler about the popular astrology app that she founded called Co-Star.
Co-Star is an app for iPhone and Android that calculates your birth chart and provides some basic interpretations, as well as daily transit notifications.
The app was launched in late 2017, and quickly became one of the most popular astrology apps in the world, with Co-Star estimating that approximately 20% of young people in the US have downloaded the app.
Despite its popularity, the app has also been the subject of criticism within the astrological community, for things ranging from the appropriateness of certain delineations, to questions about the extent to which astrologers were involved in its creation.
Last month Banu did an impromptu Ask Me Anything thread on the astrology page on Reddit, to answer some questions about the app.
I myself noticed the AMA and asked some questions, and I was impressed enough with the answers that I asked Banu if she wanted to come on the podcast to talk about the history of the app and address some of the controversies.
It ended up being a really interesting two-hour conversation where we talked about a range of different topics.
You can find out more about Co-Star on their website at:
This episode is available in both audio and video versions below.
Watch the Video Version of This Episode
You can watch the video version of my interview with Banu on YouTube:
–
Transcript
A full transcript of this episode is available: Episode 286 transcript
Listen to the Audio Version of This Episode
You can either play the audio version of this episode of the podcast directly from the website or download it as an MP3 to your device by using the buttons below:
Podcast: Play in new window | Download (Duration: 2:06:59 — 116.6MB)
Subscribe: Google Podcasts | Stitcher | RSS | More