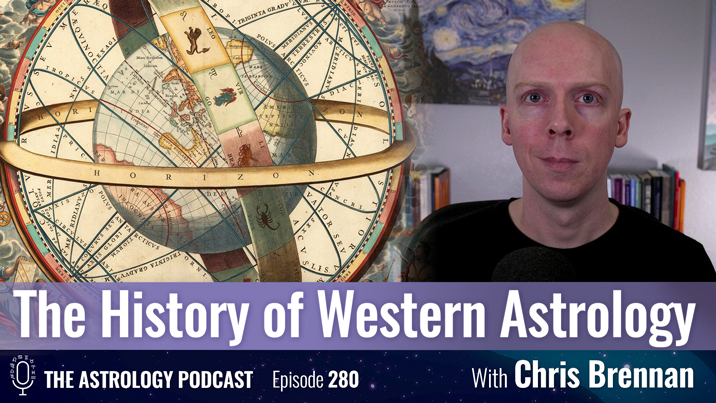 Episode 280 features a lecture by astrologer Chris Brennan where he gives an overview of the history and transmission of western astrology over the past 4,000 years.
The talk begins with the ancient Mesopotamian and Egyptian astrological traditions, and then traces the development of astrology through the Hellenistic, Medieval, Renaissance, and modern periods.
This is based on a lecture that Chris has been giving at conferences since 2006 about how Uranus-Neptune conjunctions have historically coincided with periods in which there is a major transmission and revival of older forms of astrology, which are then synthesized with whatever the prevailing paradigm is at the time.
Part of the purpose of the talk is to contextualize some of the current trends in our own time period, and the recent revival of older forms of astrology.
Chris recently appeared on The Strology Show podcast with Kirah Tabourn to talk about the recent revival of traditional astrology in modern times, and that episode would be great to watch after this episode of The Astrology Podcast if you would like some more information about the traditional revival.
This episode is available in both audio and video versions below.
Timestamps
Here are some timestamps for topics covered at different points in the episode:
00:00:00 Intro
00:02:36 Mesopotamia
00:07:44 Invention of natal astrology
00:16:21 Egypt (Decans)
00:20:58 Conquest of Alexander the Great
00:24:23 Emergence of Hellenistic Astrology
00:32:04 Thema Mundi, Rulerships
00:36:19 Aspects
00:37:42 Houses
00:39:08 Planetary Joys
00:41:45 Elements and Zodiac
00:43:00 House significators
00:44:48 Core of the New System
00:47:00 Roman Empire in the 2nd Century CE
00:47:42 Transmission to Persia and India
00:51:40 End of Hellenistic Tradition
00:54:20 Expansion of Islamic Empire
00:55:17 Early Medieval Astrology
01:01:30 Four Traditional Branches
01:05:34 Transfer of Light
01:06:51 Late Medieval Astrology
01:12:10 Renaissance Astrology
01:17:12 Late Traditional Astrology
01:23:30 The Astrological Recession
01:29:06 Rebirth in 20th Century
01:33:12 Modern Astrology
01:43:00 Revival of Traditional Astrology
01:54:33 Uranus Neptune Conjunctions
01:59:30 Chart of historical timeline
02:05:03 Value of Studying the Tradition
02:10:40 The Current Revival
02:15:40 Contributions of Each Tradition
02:21:58 The Hermetic Nature of Astrology
02:26:25 The Future
02:32:34 Further Reading
02:36:10 Concluding remarks
Watch the Video Version of This Episode on the History of Astrology
Here is the video version of this episode on the history of western astrology:
–
Transcript
A full transcript of this episode is available: Episode 280 transcript
Listen to the Audio Version of This Episode
You can either play the audio version of this episode of the podcast directly from the website or download it as an MP3 to your device by using the buttons below:
Podcast: Play in new window | Download (Duration: 2:40:50 — 147.3MB)
Subscribe: Google Podcasts | RSS | More