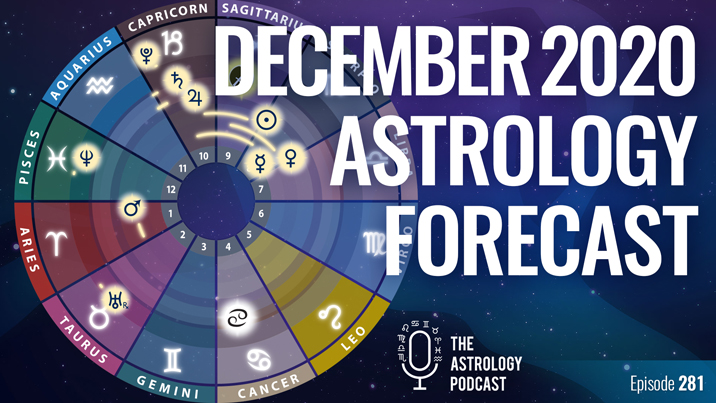 In episode 281 astrologers Kelly Surtees, Austin Coppock, and Chris Brennan look at the astrological forecast for December of 2020.
December features a solar eclipse in Sagittarius, and a great Jupiter-Saturn conjunction in Aquarius.
We spend the first 30 minutes of the episode recapping how some of the astrology of November worked out, and then we dive into the astrology of December.
This episode is available in both audio and video versions below.
Honeycomb Collective Calendars
Our sponsor this month is the Honeycomb Collective personal astrological wall calendar.
This is a fully personalized astrology calendar that shows transits to your natal chart each day, as well as other information such as your solar return or zodiacal releasing periods.
Find out more at Honeycomb.co
December Astrology Alignments
Lunar eclipse in Gemini on Nov 30
Mercury moves into Sagittarius Dec 1
Mars starting to move forward again after retrograde
Solar Eclipse in Sag on Dec 14
Venus into Sag Dec 15
Saturn into Aquarius Dec 17
Jupiter into Aquarius Dec 19
(6 of the visible planets change signs in the same week)
Sun conjunct Mercury Dec 19
Mercury into Capricorn Dec 20
Jupiter-Saturn conjunction on December 21
Full Moon in Cancer on December 29
Auspicious Astrological Date for November
The most auspicious astrological date we could find in December is:
December 19, 2020, at approximately 9:30 AM, with early Aquarius rising
There are a few other charts for December that we presented in our private subscriber-only electional astrology podcast.
Timestamps
Here are some timestamps for topics covered at different points in the episode:
00:00:00 Introduction
00:00:50 Animated astrology chart for December
00:01:50 Review of what happened in November
00:02:20 Review of Mercury retrograde station on election day
00:02:20 Review of Mercury retro station on election day
00:10:08 Pam Ciampi's prediction about election day
00:15:34 Jupiter-Pluto conjunction + Mars station review
00:32:42 December forecast begins
00:35:08 Lunar eclipse in Gemini
00:47:25 Solar eclipse in Sagittarius
00:58:12 Vaccines and the Jupiter-Saturn conjunction
01:05:15 Minor transits in December
01:07:24 Jupiter and Saturn move into Aquarius
01:14:47 Saturn in Capricorn retrospective
01:20:40 Saturn in Aquarius for 3 years
01:23:15 Does the Age of Aquarius begin now?
01:36:25 Auspicious electional chart for December
01:45:45 The great conjunction as a long-term cycle
01:49:00 Mars-Pluto square
01:54:00 Mars gaining speed & planetary speed in general
01:56:50 Saturn-Pluto conjunction finally ending
02:01:25 Cardinal signs finally catch a break
02:05:00 Full Moon in Cancer on December 29
02:10:50 Snapchat releases native birth chart feature
02:13:00 2020 is over?
02:18:28 News and announcements
02:21:10 Cat watch 2020
02:23:20 Ending
Watch the Video Version of This Episode
Here is the video version of our December astrology forecast:
–
Listen to the Audio Version of This Episode
You can either play the audio version of this episode of the podcast directly from the website or download it as an MP3 to your device by using the buttons below:
Podcast: Play in new window | Download (Duration: 2:25:46 — 133.5MB)
Subscribe: Google Podcasts | Stitcher | RSS | More