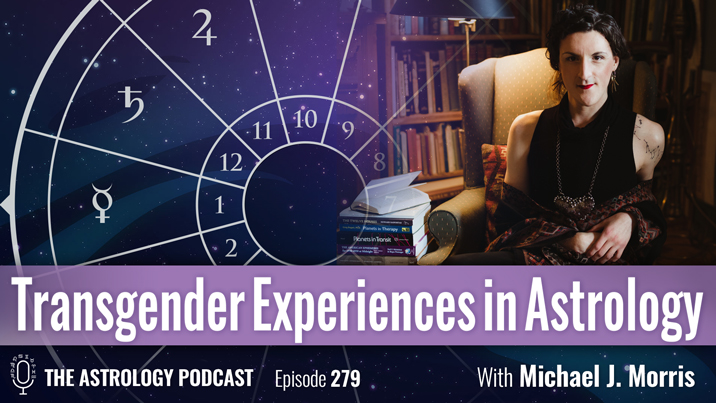 In episode 279 astrologer Michael J. Morris joins the show to talk about using astrology within the context of the lives of transgender people.
We spend the first part of the episode talking about some basic things that astrologers should know in terms of cultural competence in order to work well in consultations with transgender clients
In the second half of the episode we get into more of a technical discussion about how different placements in the birth chart can manifest in the lives of transgender people, eventually going through each of the twelve houses and talking about different possible manifestations.
We also tried to ground the discussion by using several example charts of notable transgender public figures.
You can find out more information about Michael on their website:
Below you will find some links to resources that we mention in the episode, followed by links to the audio and video versions of this episode.
Recommended Reading
A few books were mentioned or discussed in this episode:
Susan Stryker, Transgender History, 2nd ed., 2017
Brynn Tannehill, Everything You Ever Wanted to Know About Trans, 2019.
Chani Nicholas, You Were Born For This, 2020
Kate Bornstein, Gender Outlaw: Men, Women, and the Rest of Us (1995)
Alok Vaid-Menon, Beyond the Gender Binary (2020)
Janet Mock, Redefining Realness: My Path to Womanhood, Identity, Love & So Much More (2014)
Other Resources
Some other resources mentioned in the episode:
Irina Tudor's Queer Astrology Data Research Project Twitter and Patreon
Chani Nicholas's readings for Laverne Cox and Janet Mock on Star Power on Netflix.
Watch the Video Version of This Episode
Here is the video version of this episode on transgender issues in astrology:
–
Listen to the Audio Version of This Episode
You can either play the audio version of this episode of the podcast directly from the website or download it as an MP3 to your device by using the buttons below:
Podcast: Play in new window | Download (Duration: 3:37:36 — 199.3MB)
Subscribe: Google Podcasts | RSS | More