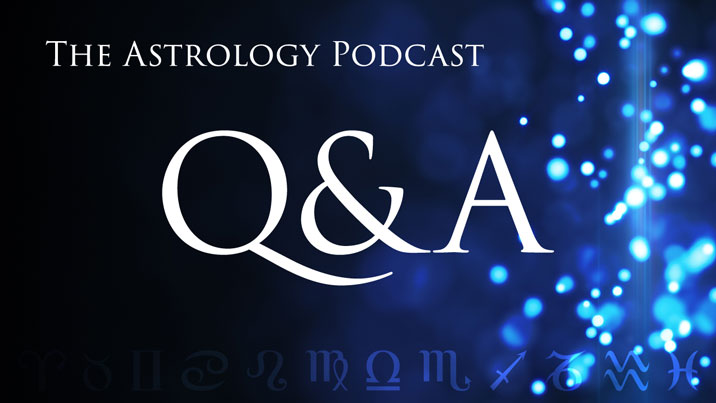 In episode 273 astrologers Leisa Schaim and Chris Brennan answer some questions about astrology that were submitted by listeners of the podcast.
Some of the topics we covered in this episode include whether you should learn natal or horary astrology first, how to determine the sect of charts where the birth was close to sunrise or sunset, the ethics of reading the birth charts of children.
We also discussed placements in the difficult houses, such as the 6th, 8th, or 12th house, as well as other topics such as the importance of counseling skills for astrologers, how to not fear difficult transits in the future, and how astrology has changed or impacted our lives.
Later we also touched on why the wrong chart is said to still work sometimes, as well as the role of bias in astrology.
This episode is available in both audio and video versions below.
Timestamps
Here are some timestamps for topics covered at different points in the episode:
00:00:00 Introduction
00:00:25 YouTube channel milestone
00:02:28 Should you learn horary or natal astrology first?
00:09:39 Importance of counseling skills
00:23:15 Important things happening during difficult times
00:50:01 Determining sect when born close to sunrise or sunset
01:06:55 Benefics or Ascendant ruler in difficult houses
01:25:07 Does the wrong chart work?
01:37:04 Ok to work with kids' charts?
01:57:14 The role bias plays in astrology
02:23:36 How has astrology changed your life?
Watch the Video Version of Our Astrology Q&A Episode
Here is the video version of our astrology Q&A episode:
–
Transcript
A full transcript of this episode is available: Episode 273 transcript
Listen to the Audio Version of This Episode
You can either play the audio version of this episode of the podcast directly from the website or download it as an MP3 to your device by using the buttons below:
Podcast: Play in new window | Download (Duration: 2:45:16 — 151.4MB)
Subscribe: Google Podcasts | RSS | More