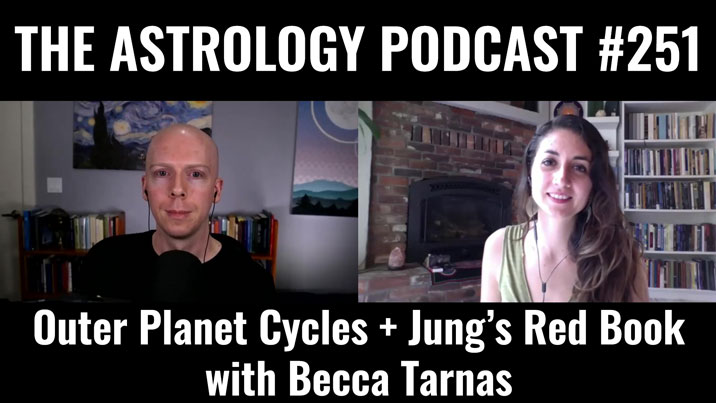 Episode 251 features an interview with astrologer Becca Tarnas where we talk about her work on the Red Book of Carl Jung, as well as the connection between outer planet cycles and recent world events.
Becca practices archetypal astrology, and is the current editor of Archai: The Journal of Archetypal Cosmology, which recently released its seventh issue in January, titled Historical Roots and Current Flowerings.
During the course of the interview we talk about her background in archetypal astrology, what it is like to be a second generation astrologer, why Jung's Red Book is important and relevant to astrologers, and how the recent Saturn-Pluto conjunction relates to events happening in the world now.
Becca received her PhD in Philosophy and Religion at the California Institute of Integral Studies in San Francisco, with a dissertation titled The Back of Beyond: The Red Books of C.G. Jung and J.R.R. Tolkien. 

For those who were interested in the discussion about Jung's Red Book in this episode, I'd recommend checking out the longer lecture on her YouTube channel on The Astrology of Jung's Red Book.
You can find out more information about Becca through her website:
This episode is available in both audio and video versions below.
Timestamps
Here are some timestamps for topics covered at different points in the episode:
00:00:00 Intro
00:00:50 Becca's background
00:02:08 Archetype definition
00:08:16 Becca's astrology journey
00:11:00 Did she rebel against astrology?
00:17:00 Her astrology education
00:21:17 Archai Journal
00:24:56 Archetypal astrology
00:28:00 Technical disputes?
00:30:40 Archai Journal issue 7
00:36:25 Jung's Red Book
00:44:50 Archetypes and the Red Book
00:50:37 Uranus Neptune and the Red Book
00:54:38 Why Red Book wasn't published sooner
00:58:21 Jung's break with Freud
01:00:00 WWI
01:01:13 Jung's chart
01:02:27 1913-15 Saturn Pluto conjunction
01:07:18 Outer planet cycles
01:09:50 Obama and Uranus Pluto
01:12:30 Mary Wollstonecraft and Uranus Pluto
01:17:27 Saturn Pluto cycles
01:25:06 2020 Saturn Pluto conjunctions
01:32:33 Generational gifts
01:33:58 Jupiter Saturn 1980's
01:36:04 2020 presidential primary
01:37:45 Saturn Pluto stress test
01:39:10 Late 1980's chart
01:40:28 9/11 Saturn Pluto
01:44:19 More about Saturn Pluto
01:53:00 Saturn return orbs
01:57:23 Saturn Pluto future dates
02:19:16 Becca's work and contact info
Watch the Video Version of This Episode
Here is the video version of my interview with Becca Tarnas:
–
Transcript
A full transcript of this episode is available: Episode 251 transcript
Listen to the Audio Version of This Episode
You can either play the audio version of this episode of the podcast directly from the website or download it as an MP3 to your device by using the buttons below:
Podcast: Play in new window | Download (Duration: 2:24:25 — 99.2MB)
Subscribe: Google Podcasts | Stitcher | RSS | More