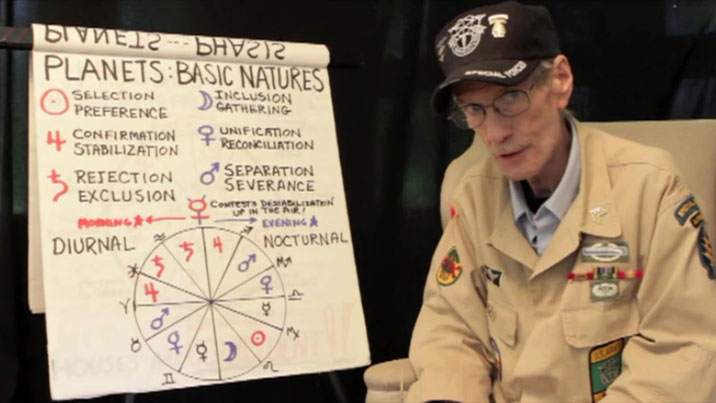 Episode 250 features a lecture by the late astrologer Alan White on an introduction to Hellenistic astrology, followed by an audio interview with Alan about his life and work from 2010.
Alan began studying astrology seriously in the 1980s, and then in the mid-1990s he discovered Project Hindsight and developed a deep interest in ancient astrology.
He created an introductory lecture on Hellenistic astrology using a flip chart that he presented at a number of astrological meetings in the 2000s, and one of these presentations in 2001 led to Demetra George teaching a course on the subject at Kepler College.
Alan died at the age of 69 on August 18, 2011 after a long battle with cancer. I visited him a few months before he died, and asked him to record a version of his intro to Hellenistic astrology lecture, to have it on the historical record.
The first 90 minutes of this episode after the intro consists of Alan's intro to Hellenistic astrology lecture, while the second half is an interview I did with Alan for my old podcast called Traditional Astrology Radio that was recorded and aired on December 7, 2010.
Below I'm going to include the obituary I wrote for Alan after he died, since the old astrologers memorial website that used to have it has disappeared.
You can also find high resolution images of Alan's flip chart in a gallery below.
This episode is available in both audio and video versions below.
Alan White (1942-2011)
Born on January 1, 1942 at 11:37 AM in Washington, D.C. Alan White's birth chart
Died on August 18, 2011 at 1:36 PM in Edenton, North Carolina.
Astrologer Alan White passed away on Thursday, August 18th in Edenton, North Carolina after a long illness. He was 69 years old. He is survived by his wife, Jaan Stephens-White, and his three children, Jeanette, Christopher and Virginia.
A native of Washington, D.C. Alan joined the Army in 1961 shortly after graduating from high school, and served in Vietnam from 1963-64 as a green beret with the 5th Special Forces Group. After completing his service in the military, he spent time focusing on his education, and held a series of jobs prior to retiring which included work as a mechanic, a travelling salesman and an astrologer.
Alan's interest in astrology began in 1963 when he bought a Zodiac watch in Saigon which depicted the phases of the Moon. Initially skeptical about the subject, he began studying it seriously in the 1970s, eventually attending his first astrological conference in the 1980s. Disappointed that many of the approaches to astrology that he had been exposed to at that point came off as too "airy-fairy," he longed for a more concrete take on the subject. He found what he was looking for in 1995 when he discovered traditional astrology through Project Hindsight by attending the second PHASE Conclave in Berkeley Springs, West Virginia. Alan subsequently became an ardent supporter and eventually a close associate of the Project.
He began giving introductory lectures on Hellenistic astrology in the late 1990s, and was an active member of the Northern Virginia Chapter of the NCGR in the early 2000s. In summarizing his philosophy of astrology, he was particularly fond of a statement by the Medieval astrologer Guido Bonatti that the purpose of astrology is to reconstruct the past, understand the present, and predict the future.
In May of 2001 he was sent to Seattle to run a trade show booth for Project Hindsight at the annual Northwest Astrological Conference. The first class of students from the newly opened Kepler College of Astrological Arts and Sciences had just completed its first year, and the entire class was in attendance at the conference. One night at the conference Alan was sitting in the lounge talking with a group of Kepler students and regaling them with stories about Hellenistic astrology, and they became intrigued enough to encourage him to put on an impromptu lecture on the subject in an empty conference room that same night. The lecture was particularly successful, to the extent that the Kepler students encouraged one of their teachers who had also attended the lecture, Demetra George, to develop a course on Hellenistic astrology for the Kepler curriculum. Demetra subsequently travelled to the east coast and spent several months studying under Alan and Robert Schmidt of Project Hindsight during the winter of 2001/2.  She began teaching the course on Hellenistic astrology at Kepler in 2002, and many students were first introduced to the subject within that context. To whatever extent the subsequent revival of Hellenistic astrology today and in the future is the result of Demetra's teachings or those whom she taught, it is thanks to Alan that this transmission was able to take place. In many ways this is his most lasting legacy and contribution to the astrological community.
Alan's Intro to Hellenistic Astrology Flip Chart
Here are high resolution images of the flip chart that Alan used in his intro to Hellenistic astrology lecture:
Timestamps
Here are some timestamps for topics covered at different points in the episode:
00:00:00 Intro
00:03:22 Alan's birth chart
00:04:35 The impact of Alan's lecture
00:09:00 Robert Schmidt and Project Hindsight
00:12:00 Alan's obituary
00:17:56 Part 1 of lecture
00:21:00 Astrology definition
00:22:10 Project Hindsight
00:23:10 Restoration of the Astrology of the West
00:24:13 History of astrology
00:29:04 Planets
00:31:20 Sun
00:32:19 Mercury
00:33:05 Venus
00:33:29 Mars
00:34:00 Jupiter
00:34:30 Saturn
00:34:56 Moon
00:36:24 Detriment
00:37:05 Sect
00:38:18 Houses
00:40:17 Part 2
00:40:27 Signs
00:48:21 Aspects
00:52:20 Mitigating Sympathies
00:53:35 Rulership
00:59:08 Solar phase
01:04:24 Lunar Concepts
01:10:25 7 Hermetic Lots
01:15:04 3 Grand Approaches
01:16:15 7 Hellenistic Techniques
01:17:22 7 Topical Methods
01:19:34 Time Lords
01:24:05 Transits
01:28:38 Thema Mundi
01:35:01 Ages of Pisces and Aries
01:36:37 Age of Aquarius
01:37:07 Outer Planets
01:51:39 Start of Chris' interview with Alan
01:52:42 Alan's background
02:02:00 Influence of Alan's military background
02:04:40 Alan and Robert Schmidt
02:05:20 Sun ruling Cancer
02:07:05 Modern astrology
02:09:45 Discovery degrees and outer planets
02:16:50 July 6, 1775 Chart of the US
02:28:18 Politics in astrology
02:30:55 Definition of astrology
02:32:22 Astrology and academics
02:38:30 Criticism of evolutionary astrology
02:41:30 Purpose of Sect
02:43:20 Lots
02:43:50 Planets and causation
02:46:18 Fate and Free Will
02:47:40 Closing remarks
Watch the Video Version of This Episode
Here is the video version of this episode of the podcast:
–
Transcript
A full transcript of this episode is available: Episode 250 transcript
Listen to the Audio Version of This Episode
You can either play the audio version of this episode of the podcast directly from the website or download it as an MP3 to your device by using the buttons below:
Podcast: Play in new window | Download (Duration: 2:49:09 — 116.2MB)
Subscribe: Google Podcasts | Stitcher | RSS | More