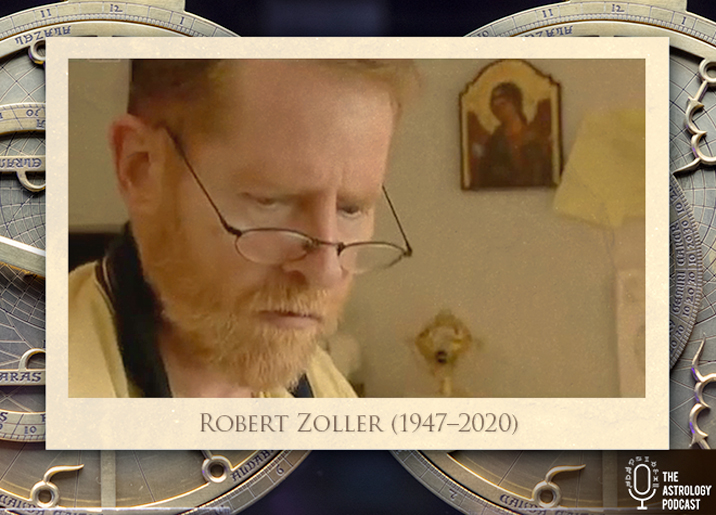 Episode 249 features a tribute to the astrologer Robert Zoller, who passed away in January, and was a pioneer in the revival of the study and practice of medieval astrology.
Zoller's book The Arabic Parts in Astrology: A Lost Key to Prediction (1980) was one of the first books which helped to contribute to the revival of traditional astrology in the 1980s and 90s.
Later he was one of the principal founders of Project Hindsight in 1992, alongside Robert Schmidt and Robert Hand, and he produced several translations from Latin under the auspices of that project, including parts of Guido Bonatti, Al Kindi's On Stellar Rays, and the Liber Hermetis.
He left Hindsight due to creative differences relatively early in the project, but continued teaching and promoting medieval astrology.
He began offering a written certification course in medieval astrology, which a number of high profile astrologers graduated from, including Benjamin Dykes and Christopher Warnock.
He later received some recognition for his predictions about the September 11th 2001 terrorist attacks, and was featured in a 2005 History Channel episode on the topic.
He struggled with Parkinson's Disease, which developed in the 1990s and left him debilitated much of the time by the 2000s, thus slowing his creative output in later years. He passed away on January 24, 2020.
The first part of this podcast episode features a discussion with Benjamin Dykes about Zoller's life and work. Ben studied and attained certification with Zoller, and since then has gone on to continue much of what Zoller started in terms of recovering the medieval tradition.
The second half of the episode features an hour long interview that I conducted with Zoller on my old podcast called Traditional Astrology Radio on January 9, 2011. The audio quality is not very good, but the content of the interview does a pretty good job of covering the full range of Zoller's life and work.
This episode is available in both audio and video versions below.
Watch the Video Version of This Episode
Here is the video version of this episode of the podcast:
–
Transcript
A full transcript of this episode is available: Episode 249 transcript
Listen to the Audio Version of This Episode
You can either play the audio version of this episode of the podcast directly from the website or download it as an MP3 to your device by using the buttons below:
Podcast: Play in new window | Download (Duration: 1:41:11 — 69.5MB)
Subscribe: Google Podcasts | RSS | More