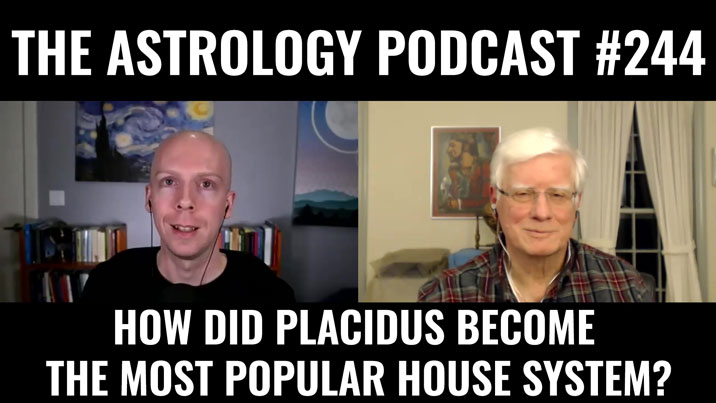 Episode 244 features an interview with Anthony Louis about the history of how Placidus became the most popular system of quadrant house division used in western astrology in modern times.
In late 20th and early 21st century astrology Placidus is the most popular house system, and it is usually the default house system in most software programs, which makes it the system that most people begin their studies of astrology with.
The question is: how did this come to be the case? Especially since there are other forms of quadrant house division that are available, such as Porphyry or Alcabitius houses, what led to the widespread acceptance of Placidus?
It turns out, the origins of the Placidus house system and its popularization lie in the 17th century, and it was partially based on an an attempt to reinterpret a controversial passage from the work of the 2nd century astrologer Claudius Ptolemy.
The genesis of this discussion was an article on Anthony's blog titled Why are Placidus Houses so Popular?
Our goal here was to talk about some of the arguments outlined in that post, and go into some areas in greater detail, to understand the history of house division.
While our previous episode on the origins of the different forms of house division in ancient astrology covered the early history of house division, the purpose of this episode is to fill in some missing pieces about the later history from the Renaissance era forward into modern times.
You can find out more information about Anthony on his website:
Below you will find an extensive set of show notes that we used as the outline for our discussion.
This episode is available in both audio and video versions at the bottom of the page.
Episode Outline and Show Notes
Here is part of the outline we created in preparation for this episode:
Based on Anthony's November 2019 blog article Why are Placidus Houses so Popular?

Follow-up to original article: "Placidus: The Default Darling of Domification", in Federation of Australian Astrologers Journal, Vol 49, No 2 (June 2019), pp. 21-26.

Premise of the discussion:
In late 20th and early 21st century astrology Placidus is the most popular house system
In modern western astrology.
It is the default house system in most software programs, like Astro.com
As a result of that it is the system that people usually start with
One of the questions that comes up is why is Placidus the default quadrant system?
Holden makes a passing remark that Placidus became the default due to availability:

"It has become a cliche in the 20th century that the Placidus system later became the 19th and 20th century standard because it was the only one for which affordable tables were readily available. This is partially true, but the same thing could be said for the initial success of the Regiomantanus system." Holden, A History of Horoscopic Astrology, p. 150.

Anthony took some issue with this because Placidus had been popularized earlier.
While it was the primary system available by the 20th century, this was because it had been promoted widely since the 17th century.
So how did this get started?
Placidus published his book in 1650.
Focused on primary directions and house division.
He was interested in reconstructing Ptolemy's approach.
Part of the general back to Ptolemy movement.

Also evident in Lilly and others.
Ptolemy was the oldest Greek author available
Viewed as the most authoritative.

Ptolemy has a discussion of house division in his length of life chapter (3, 11).

This is also where he introduces primary directions.

The method of house division he advocates here has long been the subject of dispute.

"This one chapter has occasioned more astrological controversy than any other ever written." Holden, A History, p. 47.

Ptolemy was like the Einstein of his day
Even in the early Greek authors after Ptolemy there were different interpretations about what system of house division they thought he was trying to introduce in this chapter.
Some of the later forms of houses came from trying to interpret Ptolemy.
Regiomantanus was one of the authors that did that.

"Regiomontanus claimed that his method was what Ptolemy had in mind when he wrote Tetrabiblos, iii. 10 This is certainly false, but Regiomontanus's arguments were accepted by the majority of astrologers." Holden, Ancient House Division II.
"His house tables, accompanied by auxiliary tables for calculating primary directions, were very likely the first extensive set of mathematical tables of any kind ever printed, appearing as they did scarcely four decades after the invention of printing."
"Three things combined to make the Regiomontanus system a success. First, it provided a convenient printed set of house tables. Second, it was modern and scientific. And third, it substituted a system with alleged classical Greek sanction for a system supposed to have been invented by a medieval Arab. But these arguments would have been equally applicable to the Campanus or Placidus systems. Thus, it is fair to say that the success of the Regiomontanus system was due to external circumstances rather than to any inherent superiority."

Placidus was another author who popularized a system based on what he thought Ptolemy meant
What was unique about Placidus is that he is thought to have been one of the first in centuries to correctly understand Ptolemy's system of primary directions.

However he misunderstood Ptolemy's intended system of house division.
At least, according to Holden.

Holden and Schmidt thought that Ptolemy was describing equal houses essentially.

With ranges that begin 5 degrees above the cusp of the Ascendant.
This is how Hephaistio describes it at first
But then an earlier commentator named Pancharius interpreted it differently
Introduced a modified "Alchabitius" style (Holden says "modified Porphyry").
So interpretations of Ptolemy have generated multiple house systems.
This is why Holden called this the most controversial chapter ever in the history of astrology.

Even though the Placidus system bears his name, it may not have been the first time it was introduced.

Ibn Ezra describes the same approach in the 12th century
Holden says on p 162 that Magini "is said" to have described it, and that Placidus "presumably" could have got the idea from reading his book.
So there was precedent, but Placidus popularized it.

Impact of Placidus
Didn't impact Lilly's Christian Astrology because it was published after Placidus.

Lilly (1602-1681) used Regiomantanus houses as did his disciples John Gadbury (1627-1704) and Henry Coley (1633-1707).

Placidus' work was forbidden by the Catholic Church late in his life.

Placidus was placed on the Index of Church's Index of Forbidden books in 1687 (the same year that Kirby & Bishop published their abridged translation of Placidus) and the ban was renewed in 1709.
Therefore Placidus mainly became available and popular in Protestant England

By the end of the 17th century, Placidus became popular among English astrologers.

Maybe because it was seen as a new or radical reinterpretation and innovation.
Recovering lost wisdom that had been obscured, to improve the techniques.
"According to his perhaps most famous statement, Placidus 'desired no other guides but Ptolemy and Reason'." Gansten, Primary Directions, p 19.
Rapidly (?) became popular
Similar in many ways to recent popularization of whole sign houses in our time

There was an early translation of Placidus' work into English.
In 1687 Kirby and Bishop published The Marrow of Astrology, an abbreviated English translation of the magnum opus of Placidus (1650).
John Partridge (1644-1715) became the biggest proponent of Placidus houses

Wasn't initially in his first book An Astrological Vade Mecum (1679) which includes tables of Regio houses, but in his second Opus Reformatum (1693) in which "he rejected the doctrines of the medieval astrologers in favour of Ptolemy and Placidus" (Gansten, Primary Directions, p. 21).
A very vocal proponent
He was the last major English astrologer of the 17th century

R.C. Smith ('Raphael') published a popular astrological almanac with tables of Placidus houses in 1821, making the Placidus system widely available to the public.

Ralph William Holden (1977) speculates that "it seems likely that his doing so was that the Placidus method produces cusps which are complicated to calculate when referred to any one given sidereal time, but which on the other hand are very straightforward to produce in table form." (The Elements of House Division, p.91).

After this point Placidus became the most popular system among English-speaking astrologers
Lilly's book was republished in an abridged form, without the Regiomontanus house tables

The Zadkiel edition (1852)
As the original version of Lilly fell out of print, Zadkiel became more important

Alan Leo used Placidus, as it was the standard of practice in England in the late 19th century
The early 20th century astrologers tended to use Placidus
Placidus became the primary system that tables of houses were available for.

When calculating a chart by hand, you need a table of houses to calculate cusps
It simplifies some of the mathematics involved.
In what is already a tedious process.
Additionally astrologers tend to not be highly skilled in astronomy.

With the advent of computerized astrology and websites Placidus was often the default.

For Chris' generation, Placidus being the default on Astro.com was a big deal.
It means that this is the first system you start with
The accuracy or inaccuracy of the interpretations then depend partially on it
To go against this then often means rejecting what you first learned.

These are some of the reasons why Placidus became the most popular houses system in modern times.
The end.
Timestamps
Here are some timestamps for topics covered at different points in the episode:
00:00:00 Intro
00:00:30 Anthony's background
00:01:30 Overview of Placidus house system
00:04:06 Why the house debate gets intense
00:04:39 Why Placidus is the default
00:12:05 Who was Placidus?
00:17:20 Ptolemy's influence
00:22:16 Ptolemy's difficult chapter on house division
00:24:40 Primary direction and house division
00:25:34 James Holden's papers on house division
00:28:06 Regiomontanus and Ptolemy
00:35:11 Placidus misunderstood Ptolemy on house division
00:40:30 Different interpretations of Ptolemy
00:44:27 The impact of Placidus
00:45:58 Placidus' book forbidden by the Catholic church
00:51:25 Placidus house division popular by end of 17th century
00:54:20 Text of Ptolemy's paragraph on house division
00:55:50 Placidus house division was seen as innovative
00:59:40 John Partridge was a proponent of Placidus
01:01:50 Infighting among astrologers
01:07:15 Lilly removed Regiomontanus tables
01:09:00 US astrologer Luke Broughton used Placidus
01:14:20 Other major astrologers that endorsed Placidus
01:16:15 20th century timing techniques replaced primary direction
01:20:05 Positive developments that come from misunderstanding ancient astrologers
01:22:19 Computerized astrology and Placidus
01:26:50 The house system Anthony uses
01:31:08 Porphyry houses
01:32:40 Chart changes based on house divisions
01:35:10 Indian astrology and Placidus
01:36:55 Other points about Placidus and Whole Sign
01:39:08 Anthony's blog
01:40:39 Anthony's book on horary
01:43:05 Closing remarks
Watch the Video Version of This Episode
Here is the video version of our discussion about the history of Placidus houses:
–
Transcript
A full transcript of this episode is available: Episode 244 transcript
–
Listen to the Audio Version of This Episode
You can either play the audio version of this episode of the podcast directly from the website or download it as an MP3 to your device by using the buttons below:
Podcast: Play in new window | Download (Duration: 1:44:07 — 71.6MB)
Subscribe: Google Podcasts | RSS | More