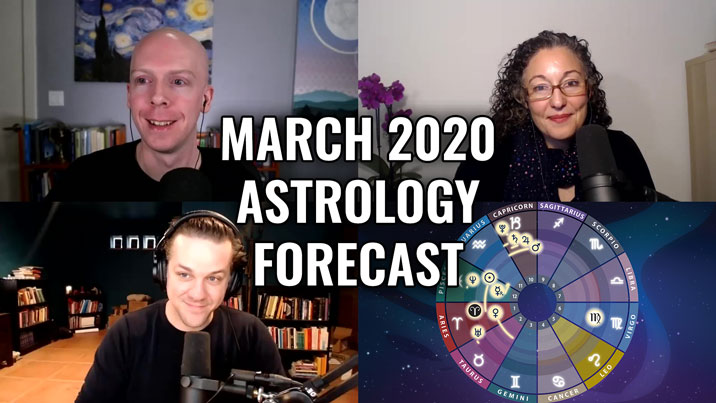 Episode 245 features the astrology forecast for March of 2020, with astrologers Kelly Surtees, Austin Coppock, and Chris Brennan.
The astrology of March features the tail end of the Mercury retrograde in Pisces and Aquarius, a Full Moon in Virgo, New Moon in Aries, and then ends with Saturn and Mars moving into Aquarius and forming a conjunction.
We spend the first hour and a half of the episode on the astrology forecast for March, and then in the final hour we transition into talking about a recent discussion about the concept of essential dignity in the astrological community.
This episode is available in both audio and video versions at the bottom of this page.
For early access to new episodes and other bonus content, consider becoming a patron of The Astrology Podcast on Patreon.
News, Announcements, and Links to Stuff Mentioned
Here are links to some of the stuff mentioned in this episode:
Planetary Alignments for March 2020
Mercury retrogrades back into Aquarius March 4
Venus moves into Taurus on March 4
Full Moon in Virgo March 9
Mercury stations direct in late Aquarius March 9
Mercury moves back into Pisces March 16
Sun moves into Aries March 19
Saturn moves into Aquarius March 21
New Moon in Aries March 24
Mars moves into Aquarius March 30
Auspicious Astrological Date for March
The auspicious election for March that was chosen by Leisa Schaim is set for:
🪐 March 22, 2020, starting at 9:10 AM, with Taurus rising
There are a three more electional charts that we found for March, which are available in our private subscriber-only podcast on auspicious elections that was just released a few days ago.
We also have a full year-ahead electional astrology report for 2020, which highlights one auspicious electional chart for each month this year.
Watch the Video Version of Our March Astrology Forecast
Here is the video version of our March astrology forecast episode:
–
Listen to the Audio Version of Our March Forecast
You can either play the audio version of this episode of the podcast directly from the website or download it as an MP3 to your device by using the buttons below:
Podcast: Play in new window | Download (Duration: 2:38:34 — 108.9MB)
Subscribe: Google Podcasts | RSS | More