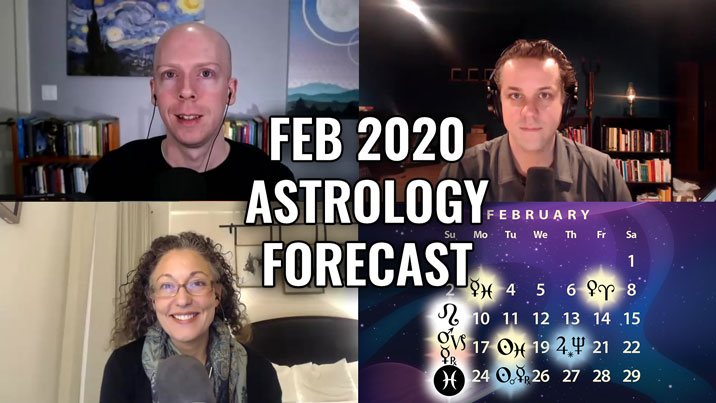 Episode 240 features astrologers Kelly Surtees, Austin Coppock, and Chris Brennan discussing the astrological forecast for the month of February of 2020.
The astrology of February features Mars moving into Capricorn mid-month, where it joins Jupiter, Saturn, and Pluto, and then Mercury stationing retrograde in Pisces conjunct Neptune around the same time.
We spend the first hour of the show talking about the astrology of February, and then transition into talking about some miscellaneous topics in the news, including:
Recent death of the astrologer Noel Tyl
Charts of Prince Harry, Meghan Markle, and Queen Elizabeth
Whether quadrant house systems are inherently more psychological or personal
Chris' reflections on reading the Picatrix for the first time (in preparation for the interview with Warnock, which was recorded the following day)
This episode is available in both audio and video versions below.
News, Announcements, Links
Kelly is teaching in New York on February 1, and starting up her group mentoring program. More information at: KellysAstrology.com
Austin is releasing his 2020 teaching schedule on February 1, and opening up his schedule for readings. More info at: AustinCoppock.com

Sphere and Sundry will be releasing the Mars in Scorpio series this February. More info at: Sphereandsundry.com

Chris is still shipping the 2020 Astrology Calendar Poster Bundle, although we may run out soon, so order today!
Shout-out to Toad / Jess Aldeghi for the new painting on Chris' wall! Website: ToadArt.co Instagram: @art.by.toad
Major Planetary Alignments in 2020
Here are some of the major planetary alignments in 2020 discussed in this episode:
Mercury moves into Pisces on February 3
Venus moves into Aries on February 7
Full Moon in Leo February 9
Mars moves into Capricorn February 16
Mercury stations retrograde in Pisces February 16
Sun moves into Pisces February 18
Jupiter sextile Neptune February 20
New Moon in Pisces February 23
Sun conjunct Mercury February 25
Auspicious Electional Chart for February
The auspicious election for February that was chosen by Leisa Schaim is set for:
🪐 February 1, 2020 starting around 2:50 PM, with Cancer rising
There are a three more electional charts that we found for February, which are available in our private subscriber-only podcast on auspicious elections that was just released a few days ago.
We recently released a preview of the Auspicious Elections Podcast, which was the episode that subscribers had access to at the beginning of September, in order to give you an idea of what the private electional podcast is like when you sign up for it through our page on Patreon.
Watch the Video Version of Our February Astrology Forecast
Here is the video version of our February astrology forecast episode:
–
Listen to the Audio Version of Our February Forecast
You can either play the audio version of this episode of the podcast directly from the website or download it as an MP3 to your device by using the buttons below:
Podcast: Play in new window | Download (Duration: 2:37:37 — 108.3MB)
Subscribe: Google Podcasts | RSS | More