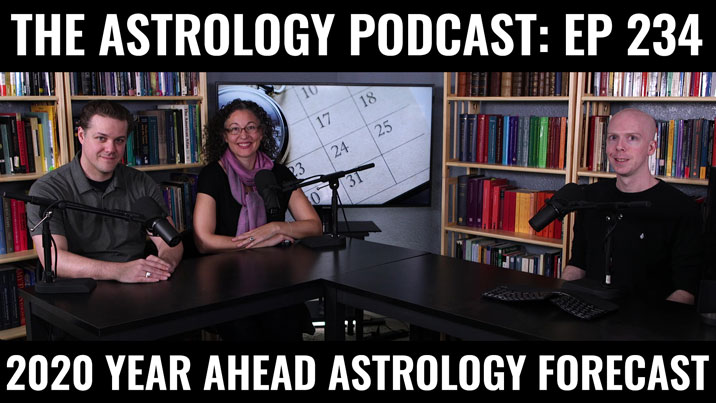 In episode 234 astrologers Kelly Surtees, Austin Coppock, and Chris Brennan provide an overview of the astrology of 2020, and discuss the major planetary alignments that will happen over the next year.
There is a lot of major planetary activity next year, including a Saturn-Pluto conjunction in Capricorn, Venus and Mars both retrograde for several months, and an epoch-defining Jupiter-Saturn conjunction in Aquarius.
We got together to record this episode in person in our studio in Denver in late November, right in the middle of a week of recording several other episodes.
This episode is available in both audio and video versions below.
Support the Podcast Through Patreon
This episode was recorded in front of a live audience of patrons through our monthly webinar format, which is one of the perks of signing up to support the production of the podcast through our page on Patreon:
https://www.patreon.com/astrologypodcast
Other patron benefits include early access to new episodes, behind the scenes news, and access to exclusive bonus episodes.
If you enjoy the podcast and want to show your support, become a patron!
Honeycomb Collective Personal Astrological Almanacs
Our sponsor for the 2020 forecast is the Honeycomb Collective Personal Astrological Almanac, which features customized natal transit planners for professional and student astrologers.
Thanks to Honeycomb for sponsoring the podcast this year, and helping us bring Austin and Kelly out to Denver!
2020 Astrology Poster Set
Some of the artwork featured in this episode is from our 2020 astrology poster bundle, which is now available for purchase:
https://theastrologypodcast.com/2020posters/
The posters help you to track the movements of the planets throughout the course of the year, and come with a bonus poster that lists the significations of the houses.
More Info About Kelly, Austin, and Chris
For more info about our consultations, classes, and other events see our websites:
🪐 AustinCoppock.com and SphereAndSundry.com
Auspicious Electional Chart for January
The auspicious election for January that was chosen by Leisa Schaim is set for:
🪐 January 5, 2020, starting around 12:50 PM, with Taurus rising
There are a four more electional charts that we found for January, which are available in our private subscriber-only podcast on auspicious elections that is released towards the end of each month.
We recently released a preview of the Auspicious Elections Podcast, which was the episode that subscribers had access to at the beginning of September, in order to give you an idea of what the private electional podcast is like when you sign up for it through our page on Patreon.
Major Planetary Alignments in 2020
Here are some of the major planetary alignments in 2020 discussed in this episode:
Saturn-Pluto conjunct exact on January 12
Lunar eclipse in Cancer on January 10
Saturn moves into Aquarius temporarily March 21
Jupiter-Pluto conjunction April 4
Venus stations retrograde in Gemini May 13
Solar Eclipse in Sagittarius June 5
Lunar eclipse in Cancer June 21
Solar Eclipse in Capricorn July 5
Mars stations retrograde in Aries September 9
Lunar eclipse in Gemini November 30
Solar Eclipse in Sagittarius December 14
Jupiter moves into Aquarius December 19
Saturn moves into Aquarius December 17
Jupiter-Saturn conjunction December 21
Watch the Video Version of Our 2020 Astrology Forecast
Here is the video version of our 2020 astrology forecast episode:
–
Transcript
A full transcript of this episode is available: Episode 234 transcript
Listen to the Audio Version of Our 2020 Forecast
You can either play the audio version of this episode of the podcast directly from the website or download it as an MP3 to your device by using the buttons below:
Podcast: Play in new window | Download (Duration: 3:10:22 — 130.8MB)
Subscribe: Google Podcasts | RSS | More