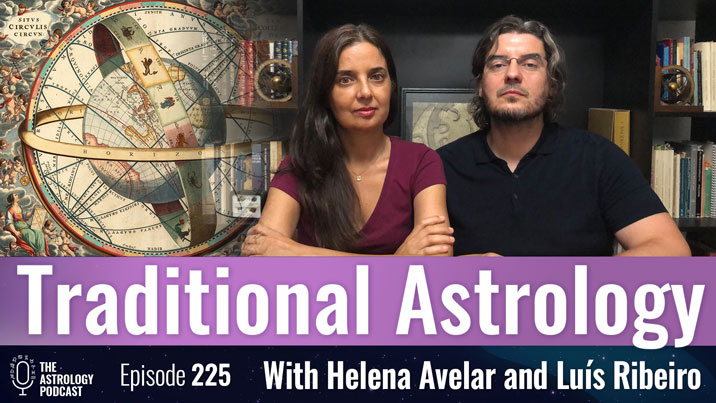 Episode 225 features an interview with Helena Avelar and Luís Ribeiro about their work on traditional astrology, and their two books on the subject.
Helena and Luís live in Portugal, and are the authors of the 2010 book On the Heavenly Spheres: A Treatise on Traditional Astrology, which is a comprehensive introduction to traditional, pre-20th century forms of astrology.
This was one of the first really good introductory books that came out after the revival of traditional forms of astrology over the past 30 years, and I recommend it on my list of the best astrology books for beginners.
They recently released a second book titled Traditional Astrology Course: Essential Concepts and Interpretation Basics, which acts as a companion volume to their first book, and helps to supplement and expand on some of the concepts.
During the course of the interview we talk about how Helena and Luís got into traditional astrology, some of the philosophy behind it, and discuss what went in to writing the books.
We also discuss some of the academic work they have been doing on the history of astrology over the past decade, and their recent PhD dissertations on the subject.
You can find out more information about Helena and Luis on their website:
This episode is available in both audio and video versions below.
The Tradition Journal
Helena and Luís edited a journal on traditional astrology from 2008–2010 called The Tradition: Journal of Western Predictive Astrology.
The website for the journal has been discontinued, and their own website is currently under construction, but they gave me permission to re-post the four issues of the journal that they produced here.
These issues are a goldmine for work on traditional astrology, and I thought it would be good to share them here to help familiarize newer students with some of the work that Helena and Luís have done.
Watch the Video Version of This Episode
Here is the video version of my interview with Helena Avelar and Luís Ribeiro:
–
Transcript
A full transcript of this episode is available: Episode 225 transcript
Listen to the Audio Version of This Episode
You can either play this episode of the podcast directly from the website or download it as an MP3 to your computer by using the buttons below:
Podcast: Play in new window | Download (Duration: 3:08:38 — 129.9MB)
Subscribe: Google Podcasts | RSS | More