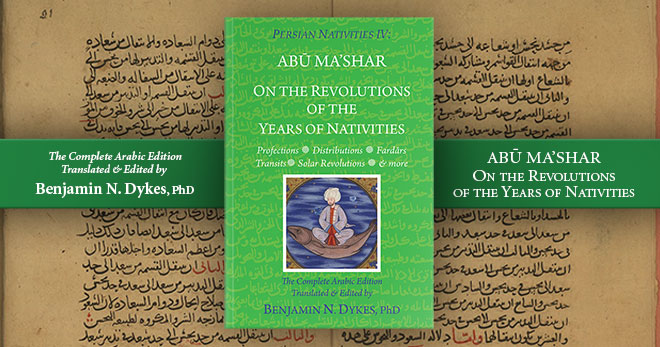 Episode 218 features an interview with Dr. Benjamin Dykes about his new translation of a highly influential book on solar returns by the 9th century astrologer Abu Ma'shar.
The title of the book is Persian Nativities IV: On the Revolutions of the Years of Nativities.
Abu Ma'shar (d. 886 CE) was one of the most prolific and influential early Medieval astrologers who wrote in Arabic, living in Baghdad in the middle of the 9th century.
He wrote one of the most famous and comprehensive works on solar returns, titled On the Revolutions of the Years of Nativities.
Portions of this book were translated from Arabic into Latin in the 12th century, which then influenced many subsequent generations of astrologers in the west.
In 2010 Ben translated the Latin version of Abu Ma'shar's book on solar returns and published it as Persian Nativities III.
Now he has gone back and translated the entirety of the original Arabic text, which not only contains a lot of material that was missing in the Latin version, but the meaning of the text is much richer and more nuanced because the translation is from the original language.
The book was just released today, on August 9, 2019, to coincide with the release of this interview, and you can buy it on Amazon:
Abu Ma'shar, On the Revolutions of the Years of Nativities
During the course of the interview we talk about who Abu Ma'shar was, why he thought that calculating solar return charts was important, and some of the specific things that he recommended looking at when trying to interpret a solar return.
This episode is available in both audio and video versions below.
Watch the Video Version of This Episode
Here is the video version of this episode:
–
Transcript
A full transcript of this episode is available: Episode 218 transcript
Listen to the Audio Version of This Episode
You can either play this episode of the podcast directly from the website or download it as an MP3 to your computer by using the buttons below:
Podcast: Play in new window | Download (Duration: 1:52:38 — 77.7MB)
Subscribe: Google Podcasts | Stitcher | RSS | More