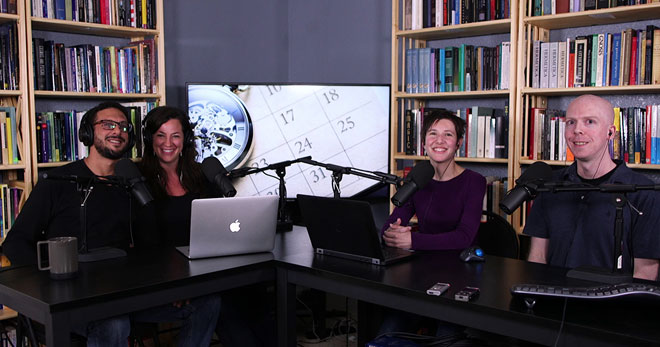 In episode 201 astrologers Eugenia Krok and Tareck Adeeb join Leisa Schaim and Chris Brennan to talk about what it is like for an astrologer to be in a romantic relationship with another astrologer.
Eugenia is the host of the Accessible Astrology Podcast, and she and Tareck have been dating for two years, while Chris and Leisa have been together for about a decade.
We thought it would be fun to discuss some of the pros as well as some of the cons of being in a relationship with another astrologer, since it brings some unique advantages and challenges to the table.
Some of the issues we tried to address were how much should you pay attention to what the astrology is saying versus just dating, having a shared language or worldview, and what happens when you have different approaches to astrology.
We also tried to address what it is like for astrologers to be in relationships with non-astrologers, and some of the positive and difficult points associated with these partnerships as well.
We also answered some questions that were submitted by listeners.
This was our first time recording a four-person podcast in the new studio, so it was a bit of an experiment, but it ended up going really well!
For early access to new episodes and other great subscriber benefits, consider becoming a patron of the podcast through our page on Patreon:
https://www.patreon.com/astrologypodcast
This episode is available in both audio and video versions below.
Watch the Video Version of This Episode
Here is the video version of this episode of the podcast:
–
Listen to the Audio Version of This Episode
You can either play this episode of the podcast directly from the website or download it as an MP3 to your computer by using the buttons below:
Podcast: Play in new window | Download (Duration: 2:39:09 — 109.6MB)
Subscribe: Google Podcasts | RSS | More