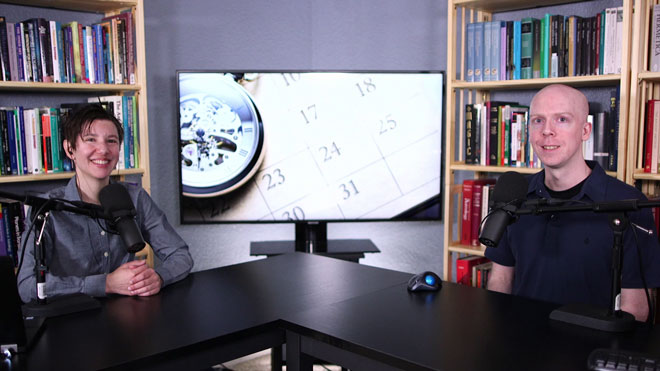 Astrologers Chris Brennan and Leisa Schaim celebrate the 200th episode of The Astrology Podcast by talking about its history, looking back at some past episodes, and answering some meta questions about the podcast that were submitted by listeners.
Part of our goal was to provide a bit of an introduction to the podcast for those who have only found it relatively recently, and to highlight some groups of episodes that are important for new people and beginners to listen to, since it might be hard deciding which ones to start with now that there are 200 episodes.
I also wanted to provide some behind the scenes commentary and insight into the production of the show for longtime fans, and to talk candidly about different turning points in the history of the podcast, and how it has been tied in to my career as an astrologer over the past decade.
Eventually we answer some listener questions, and in the later part of the episode we go through and talk about some of the episodes that stand out to me the most, from the very earliest episodes to some of the more recent ones.
This was our first episode in the new recording studio, since we moved recently and got a place with a dedicated room for recording the podcast. So while part of this episode is about looking back at the past, we also spend some time talking about plans for the future.
Thank you to all of the listeners, fans, and patrons who made the podcast possible!
If you are interested in supporting the production of the podcast and getting access to some great benefits, like early access to new episodes and other bonus content, consider becoming a patron through our page on Patreon:
https://www.patreon.com/astrologypodcast
This episode is available in both audio and video versions below.
Watch the Video Version of This Episode
Here is the video version of this episode of the podcast:
–
Transcript
A full transcript of this episode is available: Episode 200 transcript
Listen to the Audio Version of This Episode
You can either play this episode of the podcast directly from the website or download it as an MP3 to your computer by using the buttons below:
Podcast: Play in new window | Download (Duration: 4:05:25 — 168.9MB)
Subscribe: Google Podcasts | RSS | More