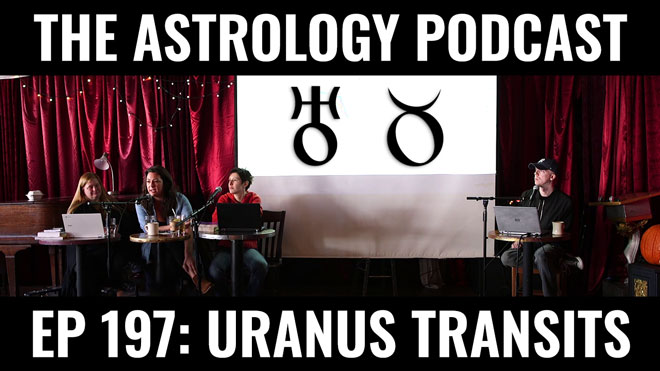 Episode 197 features a panel of astrologers talking about the recent ingress of Uranus into Taurus, and helping to contextualize what that shift will mean for individuals by talking about it within the context of transits of Uranus through each of the twelve houses.
This is a recording from a meeting of the Denver Astrology Group that happened last Saturday, March 9, 2019. It was an experimental format where a panel of four astrologers led a discussion about the transit of Uranus through the houses, and audience members were encouraged to share stories about past Uranus transits they have experienced.
The panel featured astrologers Leisa Schaim, Eugenia Krok, Joy Vernon, and Chris Brennan.
Part of the motivation for the panel was that just a few days earlier on March 6, 2019, Uranus left Aries and moved into Taurus, where it will transit for the greater part of the next decade.
During the course of the meeting we went through each house in order, starting with the first house, and initially talked conceptually about what we would expect the transit of Uranus through that house to mean, and in some instances discussed different examples we had seen of it manifesting in different ways in the past.
Then we opened it up to the audience and asked if anyone had a good story about that transit, either in terms of how it had manifested for them when Uranus was transiting that house in the past, or how it has started to manifest already with Uranus starting to dip into Taurus over the past year.
This is partially under the premise that when you are using whole sign houses the shift of Uranus into a new sign also means that it is moving into a new house in your chart.
The end result was a pretty interesting and informative discussion, which should provide a useful starting point for each person who is trying to figure out what this nearly decade-long transit of Uranus will mean for them.
This episode is available in both audio and video versions below.
Watch the Video Version of This Episode
Here is the video version of this episode:
–
Transcript
A full transcript of this episode is available: Episode 197 transcript
Listen to the Audio Version of This Episode
You can play this episode of the podcast directly from the website or download it as an MP3 to your computer by using the buttons below:
Podcast: Play in new window | Download (Duration: 1:57:52 — 81.3MB)
Subscribe: Google Podcasts | RSS | More