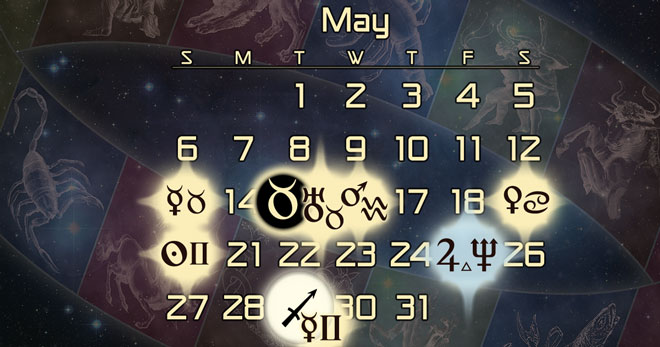 In episode 154 of the podcast astrologers Kelly Surtees and Austin Coppock join the show to talk about the astrological forecast for May of 2018.
Much of the discussion focuses on the impending ingress of the outer planet Uranus into the zodiacal sign of Taurus, since Uranus only changes signs once every seven years or so.
The Uranus ingress coincides with Mars changing signs and moving into Aquarius just a day later, and then completing a square with Uranus not long after.
At the top of the show we also discuss the new royal baby that was recently born in the UK, as well as the question of why Mercury retrograde has become a more popular concept in recent decades.
As usual, the artwork for this episode is from the 2018 PlanetWatcher Calendar.
Below you will find the show notes, followed by links to download or stream the recording of this episode of the podcast.
This month's episode is available in both audio and video versions, and you will find links to both at the bottom of this page.
Announcements
Links to some announcements made at the top of the show:
Timestamps
Approximate times for different parts of the episode:
00:00 – 20:00: News, announcements, giveaway prizes.
20:00 – 30:00: Mercury retrograde origins discussion.
30:00 – 48:00: Royal baby birth chart discussion.
48:00 – end: Forecast discussion for May.
1:33:00: Auspicious electional astrology chart for May.
Major Astrological Alignments for May
Mercury enters Taurus May 13
New Moon in Taurus May 15, conjunct Algol.
Uranus enters Taurus May 15.
Mars enters Aquarius May 16

Mars will square Uranus immediately.
This is also Mars in full shadow, same sign and decan of the retro station, which it's sharing with the South Node.

Venus enters Cancer May 19.
Sun enters Gemini May 20.
Jupiter trine Neptune May 25.
Full Moon in Sagittarius May 29, Sun conjunct Aldebaran, Moon conjunct Antares.
Mercury into Gemini May 29.
Most Auspicious Electional Astrology Chart for May
Here is the primary auspicious electional chart that we highlighted for May, which was picked out by Leisa Schaim:
There are four more electional charts that we found for May, which will be presented in our private subscriber-only podcast on auspicious elections that was released yesterday.
If you would like to get access to that discussion, then all you have to do is become a patron of The Astrology Podcast on the $5 or $10 tier through our page on on Patreon, and then you will get access to the 40-minute Auspicious Elections Podcast immediately.
Watch the Video Version of this Episode
Here is the video version of this month's forecast episode:
–
Listen to the Audio Version of This Episode
You can either play this episode of the podcast directly from the website or download it as an MP3 to your computer by using the buttons below:
Podcast: Play in new window | Download (Duration: 2:01:27 — 56.0MB)
Subscribe: Google Podcasts | RSS | More