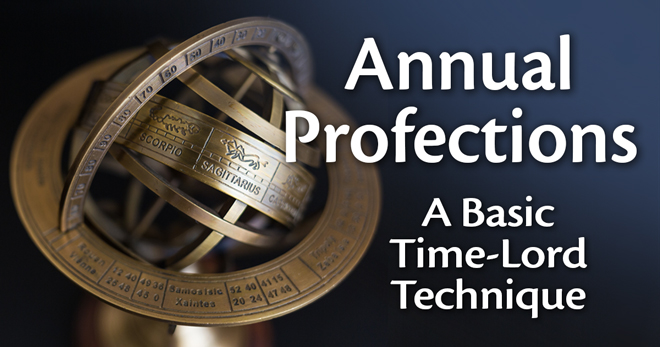 Episode 153 of the podcast is a recording of a webinar by Chris Brennan on an ancient timing technique known as annual profections, which is used to make yearly predictions about a person's life.
The lecture begins by introducing the concept of time-lord techniques in Hellenistic astrology, and how they are used to determine when the natal potential or promise of certain placements in the birth chart will become awakened in the life of the native.
We then go into a detailed treatment of the basic method of using annual profections, and how to use the technique to make yearly forecasts and predictions, starting from the day of a person's birthday or solar return.
In particular we focus on identifying the main planetary ruler of the year, known as the lord of the year, and how to determine what topics or themes are likely to arise in the native's life when this planet is activated, based on how it is situated in the birth chart.
This episode is available in both an audio-only version and a video version, and you can find links to both below.
Discount on the Hellenistic Astrology Course This Week
For the rest of April I'm offering a 15% discount on my online course on Hellenistic astrology, and you can get the discount by using the promo code JUPITER when you sign up for the course.
This code also works for the other courses and packages on my course site, although it expires on May 1.
If you enjoy this lecture on profections then you would probably enjoy the full treatment of profections in the course, which includes a longer and more detailed 9-hour lecture.
This 9-hour lecture is also available as a separate module in my annual profections class.
PowerPoint Slides for the Lecture
Here are the PowerPoint slides for the lecture:
Annual Profections Presentation Slides
These slides are meant to accompany the audio lecture, which you can listen to below.
Watch the Video Version of the Annual Profections Episode
The video version of this episode of the podcast is available through my page on YouTube:
Transcript
A full transcript of this episode is available: Episode 153 transcript
–
Listen to the Audio Version of the Annual Profections Episode
You can either download the audio version of this episode of the podcast as an MP3 or you can play it directly from the website by using the buttons below:
Podcast: Play in new window | Download (Duration: 2:06:54 — 58.5MB)
Subscribe: Google Podcasts | Stitcher | RSS | More