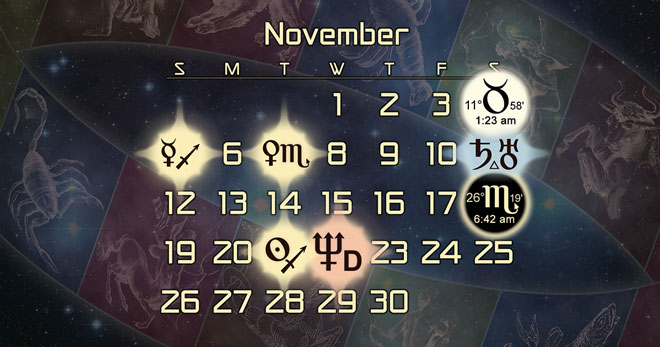 In episode 130 of the podcast astrologers Kelly Surtees and Austin Coppock join the show once again to talk about the astrological forecast for November of 2017.
The show opens with an hour-long discussion about news and observations related to the recent ingress of Jupiter into Scorpio, as well as some followup discussion about episode 127 on the lunar nodes.
The forecast itself covers transits such as the final Saturn-Uranus trine of the year, lunations in Taurus and Scorpio, and more.
Later in the episode we also feature an auspicious electional chart for the month of November, which is an Aquarius rising election with Saturn in the 11th house.
The artwork for this episode comes from the 2017 Planet Watcher astrology calendar.
Below you will find the show notes, followed by links to download or stream the recording of this episode of the podcast.
This month's episode is available in both an audio version and a video version, and you will find links to both at the bottom of this page.
Initial Discussion and Timestamps
We talk about news, the tropical zodiac, the nodes, and Jupiter in Scorpio for the first hour of the podcast, and then in the second hour we focus on the forecast for November.
If you want to jump forward to the forecast segment of the episode, we start that discussion at 1:07:05 minutes into the audio recording.
Major Astrological Alignments in November
Full Moon in Taurus on November 4
Mercury moves into Sagittarius November 5
Venus moves into Scorpio November 7
Saturn trine Uranus November 11
New Moon in Scorpio November 18
Sun into Sagittarius November 21
Neptune stations direct in Pisces November 22
Auspicious Electional Chart for November
Here is the primary auspicious electional chart that we highlighted for November:
There are three more electional charts that we found for November, which we will be talking about in our private subscriber-only podcast on auspicious elections that will be released tomorrow.
If you would like to get access to that discussion, then all you have to do is become a patron of The Astrology Podcast on the $5 or $10 tier through our page on on Patreon, and then you will get access to the 45-minute Auspicious Elections Podcast as soon as it is released.
Watch the Video Version of this Episode
Here is the video version of this month's forecast episode:
.
Listen to the Audio Version of This Episode
You can either play this episode of the podcast directly from the website or download it as an MP3 to your computer by using the buttons below:
Podcast: Play in new window | Download (Duration: 2:11:59 — 60.8MB)
Subscribe: Google Podcasts | RSS | More