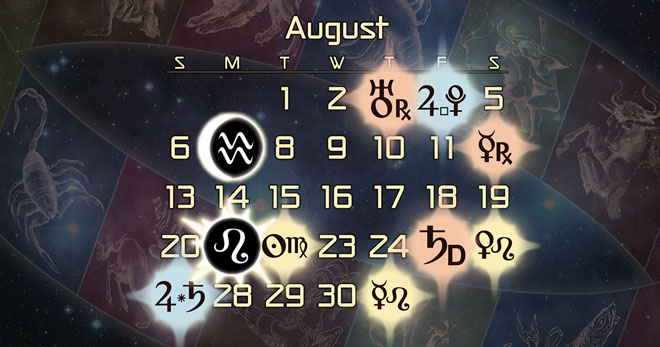 In episode 118 of the podcast astrologers Kelly Surtees and Austin Coppock join the show to discuss the astrology of August of 2017.
The main highlight of the month of course is the much-hyped solar eclipse that is set to take place in Leo, and will cut across the entire continental United States.
The month also features a lunar eclipse in Aquarius, a Mercury retrograde in Virgo/Leo, stations of Uranus and Saturn, the final square of Jupiter and Pluto, and more.
Later in the episode we also highlight one auspicious electional chart that can be used for starting different types of ventures and undertakings, using the principles of electional astrology.
As always, the artwork for this episode comes from the 2017 Planet Watcher astrology calendar.
Below you will find the show notes, followed by links to download or stream the recording of this episode of the podcast. This episode was originally recorded as a live stream through Facebook, and it is available as both an audio or a video recording.
Astrological Alignments for August of 2017
Here are some of the major alignments that we talk about for this coming month:
Uranus stations retrograde in Aries August 3
Jupiter square Pluto August 4
Lunar eclipse in Aquarius August 7th
Mercury stations retrograde in Virgo August 12
Solar eclipse in Leo August 21
Sun into Virgo August 22
Saturn stations direct August 25
Venus into Leo August 26
Jupiter sextile Saturn August 27
Mercury retrogrades back into Leo August 31
Auspicious Electional Chart for August
Here is the primary auspicious electional chart that we highlighted for August:
There are three more electional charts that we found for August, which we talk about in our private subscriber-only podcast on auspicious elections this month. A preview of that discussion can be found in this video on YouTube: Two Auspicious Electional Charts for August 2017
If you would like to get access the rest of the electional charts we found for August, then all you have to do is become a patron of The Astrology Podcast on the $5 or $10 tier through our page on on Patreon, and then you will immediately and get access to the 45-minute Auspicious Elections Podcast, which is available in both audio or video format.
Watch the Video Version of This Episode
This was the second month that we experimented with doing a live stream of this episode of the podcast through Facebook, and it was a lot of fun again, although we are still getting use to the format. We will probably make this a regular thing with the forecast episodes from now on. Patrons of the show will receive a notification ahead of time to let you know when we are planning on recording the next one.
The video version of this episode is now available to watch on Chris' YouTube channel here:
Be sure to subscribe to the channel on YouTube in order to receive updates about other videos in the future.
Listen to the Audio Version of This Episode
You can either play this episode of the podcast directly from the website or download it as an MP3 to your computer by using the buttons below:
Podcast: Play in new window | Download (Duration: 1:39:30 — 45.9MB)
Subscribe: Google Podcasts | Stitcher | RSS | More