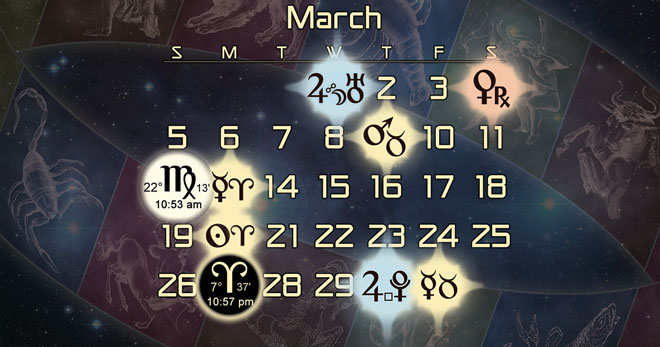 In episode 98 of the podcast Kelly Surtees and Austin Coppock join the show to talk about the major astrological alignments coming up in March of 2017, which includes a Jupiter-Uranus opposition, Venus stationing retrograde in Aries, Jupiter square Pluto, and more.
At the top of the episode we also announce the giveaway prizes for this month, and talk about the recent release of Chris' new book on ancient astrology.
The artwork for this episode is partially taken from the 2017 Planet Watcher astrology calendar, which is finally out and available for purchase.
Below you will find the show notes, followed by links to download or stream the recording of this episode of the podcast.
Winners of February Giveaway Prizes
Our sponsors this month were the Northwest Astrological Conference and The Mountain Astrologer magazine, and at the top of the show we announce the winners of the two giveaway prizes that they provided us with this month:
The first prize is a pass to the upcoming Northwest Astrological Conference, which is taking place May 25

–

29, 2017 in Seattle, Washington.
The second prize is a copy of a new 2 CD package from The Mountain Astrologer magazine which contains copies of every issue they published from 2007

–

2010.
The winner of the pass to NORWAC was patron Josh Nelson, while the winner of the TMA back issues CDs was patron Andra Sampson.
Chris' Book is Out!
Chris' book on Hellenistic astrology was finally published on February 10, 2017!
The book provides a comprehensive survey of the history, philosophy, and techniques of ancient astrology.
You can order it through his website now: Hellenistic Astrology: The Study of Fate and Fortune
Major Astrological Alignments for March
Jupiter opposite Uranus March 1
Venus stations retrograde March 4
Mars ingresses into Taurus March 9
Full Moon in Virgo March 12
Mercury ingresses into Aries March 13
Sun ingresses into Aries March 20
New Moon in Aries March 27
Jupiter square Pluto March 30
Mercury ingresses into Taurus March 31
Most Auspicious Electional Chart for March
For other auspicious elections in March you can sign up to become a patron of the show on the $5 tier and then you will have access to a 45-minute discussion where we talk about the pros and cons of this chart as well as three others.
Listen to This Episode
You can either play this episode of the podcast directly from the website or download it as an MP3 to your computer by using the buttons below:
Podcast: Play in new window | Download (Duration: 1:14:08 — 34.3MB)
Subscribe: Google Podcasts | RSS | More