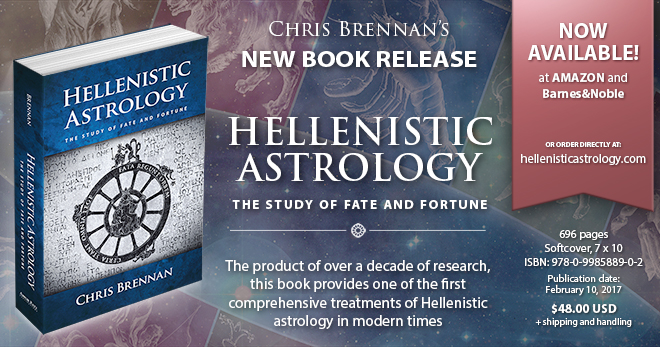 In episode 97 of the podcast I talk about the recent release of my new book on ancient astrology, titled Hellenistic Astrology: The Study of Fate and Fortune.
The book provides one of the first comprehensive surveys in modern times of the type of astrology that was practiced during the time of the Roman Empire, roughly from the first century BCE through the seventh century CE.
The purpose of the episode is to provide an overview of the book and talk about some of the topics that I cover in it, but also to talk about the process of writing the book and what went into it, especially over the course of the past year.
Where You Can Get the Book
You can order the book and get a preview of the introduction and table of contents here:
http://www.hellenisticastrology.com/book/
I am also currently offering a package deal with my online course on Hellenistic astrology, where when you sign up for the course you get a free copy of the book:
http://www.hellenisticastrology.com/courses/hellenistic-astrology-course/
The book is also available through other online retailers, although I have a slight preference for orders placed directly through my website, which I linked to above.
Pivotal Contributors to the Book
I want to thank and give credit to a few people who were instrumental in helping me to bring the book to completion this year:
Aaron Cheak edited the book and helped to shape its structure.
Paula Belluomini designed the cover as well as many of the diagrams.
Shannon Garcia did the layout and typesetting for the book, as well as the index.
Transcript
A full transcript of this episode is available: Episode 97 transcript
Listen to This Episode
You can either play this episode of the podcast directly from the website or download it as an MP3 to your computer by using the buttons below:
Podcast: Play in new window | Download (Duration: 1:54:50 — 52.9MB)
Subscribe: Google Podcasts | Stitcher | RSS | More