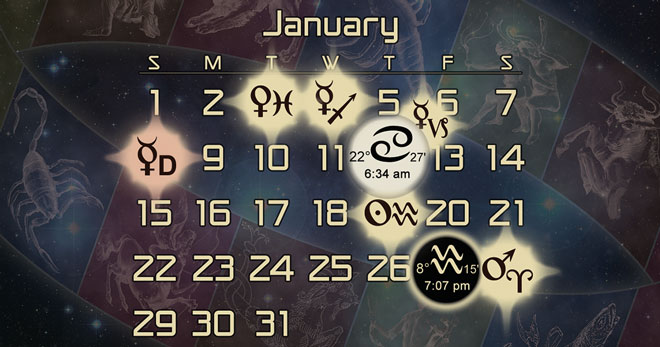 In episode 95 of the podcast astrologers Austin Coppock and Kelly Surtees join the show to talk about some of the major astrological alignments coming up in 2017.
We start out by doing a bit of a review of some of the major themes that came up over the past year, and talking about them in light of the forecast episode we put out last December.
Later we launched into a full discussion of the astrology of 2017, which includes a lot of activity in late fire signs, a major solar eclipse in Leo that will cross the entire continental United States in August, and series of Jupiter-Uranus oppositions in Aries/Libra before Jupiter moves into Scorpio in October.
Below you will find an outline of some of the different topics that we touched on during the course of the show, followed by links to download or stream the recording.
Giveaway Prizes for January/February Announced
At the top of the show I announce our two sponsors for the next couple of months, as well as the giveaway that we are doing in cooperation with them for patrons of the show.
For this month's raffle we will be giving away a pass to the upcoming Northwest Astrological Conference, which is taking place this May in Seattle, as well as a copy of a new 2 CD package from The Mountain Astrologer magazine which contains copies of every issue they published from 2007–2010.
For more information about the giveaway and how to enter for a chance to win see the description page for the January/February giveaway.
Auspicious Elections Announcement
The other announcement I make in this episode is that from now on we are going to move the auspicious elections segment of the monthly forecast episodes, and turn it into a separate 45 minute discussion that will be available to patrons of the show.
Since I'm not longer writing the electional column for TMA I wasn't sure if I wanted to keep doing the elections segment on the monthly forecast episodes, mainly because it is a lot of work to find four elections each month. This seems to be the best solution though that will allow me to keep offering them while making it so that I can justify the time spent on it each month.
The plan is that Leisa Schaim and I will record a separate 45 minute podcast each month with the auspicious elections for the next month, which will be released around or not long after the monthly forecast episode each month.
The auspicious elections episodes will only be available to patrons of the show who sign up on the $5 tier or higher. If you want to get access then all you have to do is sign up to become a patron on our page on Patreon.
I will continue to highlight one auspicious election each month on the monthly forecast episodes with Austin and Kelly. The best election for this coming month is:
January 6 at 5:20 PM with 23 Cancer rising

Moon exalted in Taurus in 11th, in a night chart, applying to sextile with Venus at 3 Pisces, mutual reception.
Emphasizes 11th and 9th house themes.
Jupiter angular in Libra in 4th.
Mercury retro but stationing direct.
The full electional episode for January will be sent out to patrons in the next few days, so sign up now if you would like to receive it!
Main Signatures for 2017
Leo eclipse in August, and that axis shifting from Virgo-Pisces to Leo-Aquarius in general.
Venus retrograde in Aries/Pisces, echoing back to 8 years ago.
Jupiter-Uranus opposition off and on most of the year.
Final phases of Saturn in Sagittarius, followed by start of Saturn in Capricorn.
Saturn-Uranus trine
Jupiter-Neptune trine
Full List of Major Alignments for 2017
Mercury direct at 28 Sagittarius January 8
Jupiter stations retrograde at 23 Libra February 6
Venus stations retrograde at 13 Aries on March 4
Saturn stations retrograde at 27 Sagittarius on April 5
Mercury stations retrograde at 4 Taurus on April 9
Venus stations direct at 26 Pisces on April 14
Pluto stations retrograde at 19 Capricorn on April 20
Mercury stations direct at 24 Aries on May 3
True Node moves into Leo on May 9
Jupiter stations direct at 13 Libra June 8
Neptune stations retrograde at 14 Pisces June 16
Uranus retrograde at 28 Aries on August 3
Mercury retrograde at 11 Virgo on August 13.
August solar eclipse everyone talking about.

August 21
Occurs at 28 Leo
Shadow moves over entire continental United States

Saturn stations direct at 21 Sagittarius August 25
Pluto stations direct at 16 Capricorn on September 27
Mercury stations direct at 28 Leo on September 5
Jupiter moves into Scorpio on October 11
Saturn moves into Capricorn on December 20.

Preceded by a Mercury retro in Sag that stations direct around same time.
Listen to This Episode
You can either play this episode of the podcast directly from the website or download it as an MP3 to your computer by using the buttons below:
Podcast: Play in new window | Download (Duration: 2:17:59 — 63.5MB)
Subscribe: Google Podcasts | Stitcher | RSS | More