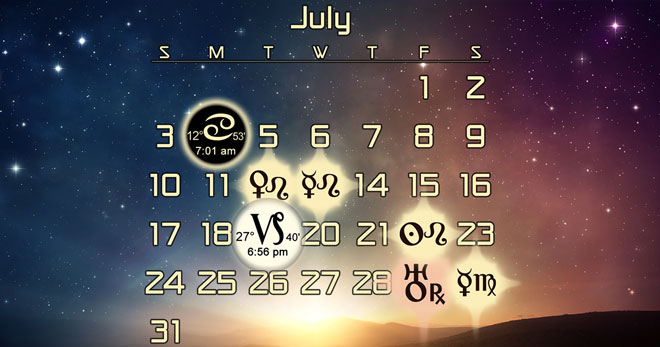 Episode 81 of the podcast features a discussion about the astrological outlook for July of 2016, with astrologers Austin Coppock and Kelly Surtees.
This month begins just after Mars stations direct in Scorpio after a long retrograde period, lunations in Cancer and Capricorn, the heliacal rising of Mercury and Venus in Leo, and Uranus stationing retrograde in Aries at the end of the month.
I also highlighted some auspicious dates for beginning different types of ventures and undertakings, using the principles of electional astrology.
We begin with some news and announcements at the top of the show.
As always, the cover art for this episode is from the 2016 PlanetWatcher Astrology Calendar.
Below you will find the show notes, followed by links to download or stream the recording of our discussion.
Nominate the Podcast for an ISAR Award
ISAR is giving out an award for the best audio-visual production at their upcoming conference in October, and there is an open call right now for nominations. Evidently this includes podcasts. The initial phase is that the top five productions that get the most nominations before the deadline on June 30 will then be voted on by the general ISAR membership later this year.
If you would like to nominate The Astrology Podcast then you should send an email to Glenn Perry at glenn@aaperry.com saying that you would like to nominate the podcast and giving them the link to it. Please CC Sam Reynolds on the email at: unlockastrology@gmail.com. If the podcast gets enough nominations in the next few days then it could win an award, which would be kind of cool.
Open Call for New UAC Speakers
There is an open call for new speakers for the upcoming United Astrology Conference in Chicago in May of 2018.
If you haven't spoken at a UAC before, then this is your chance to apply.
You have to send in a recording of an example lecture that you have given.
Deadline is July 31, 2016.
For more info:
Giveaway Prizes for June
We are doing a giveaway at the end of the month for patrons of the show, and the prizes include a one year subscription to The Mountain Astrologer Magazine, and a pass to the upcoming ISAR astrology conference in California in October. For more details see the giveaway description page for June.
This is the last chance to sign up! We will be announcing the winners on the next episode, which is being recorded on Wednesday.
Astrological Signatures for July
New Moon in Cancer on July 4.
Venus ingresses into Leo July 12.
Mercury ingresses into Leo July 13.

Mercury and Venus heliacal rising in Leo.

Full Moon in Capricorn July 19.
Sun ingresses into Leo July 22.
Uranus stations retrograde July 29.
Mercury ingresses into Virgo July 30.
Favorable Dates for July
This month's dates were selected by Leisa Schaim, who offers electional astrology consultations through her website at LeisaSchaim.com.
Listen to This Episode
You can either play this episode of the podcast directly from the website or download it as an MP3 to your computer by using the buttons below:
Podcast: Play in new window | Download (Duration: 1:29:07 — 41.2MB)
Subscribe: Google Podcasts | Stitcher | RSS | More