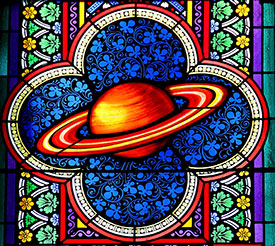 In the 45th episode of the podcast four astrologers join the show to talk about the upcoming ingress of Saturn in Sagittarius.
In the first half of the show I talk with Kelly Surtees and Austin Coppock about what Saturn in Sagittarius means from a broad symbolic perspective, as well as what it means for the world at large within the context of mundane astrology.
In the second half of the show I talk with Patrick Watson and Leisa Schaim about what Saturn in Sagittarius means within the context of natal astrology by looking at a collection of people who were born with it in that sign of the zodiac, and talking about what happened to them during their Saturn return.
Below you will find more information about each person who appeared on the show, followed by an outline of some of the different topics we covered, and then links to download or stream the recording of the episode:
Further Info on Saturn in Sagittarius
Episode Outline
Part 1: Kelly, Austin, and Chris: Saturn in Sag, the Big Picture
Saturn moves into Sagittarius on September 17, 2015.

Stays in Sagittarius until December 19, 2017.
Initial preview was from late December 2014 to mid-June 2015.
Focal point around March 2015 with station at 4 Sag.

Saturn in Sag themes

Movement, travel, getting from here to there.
Literal themes of travel and transportation. The Chunnel. Space travel.
The idea of that which is foreign or alien.
Visions, big picture ideals, making these manifest in a way that is good enough.
Saturn and the ability to assess and be discerning.
The quest for direction and meaning.
Integrity, justice, law.

Big Aspects involving Saturn in Sag:

Saturn square Neptune: Dec 2015/June + August 2016
Mars retrograde in Sag/Scorpio first half of 2016. In Sag early March.
Saturn trine Uranus: Dec 2016 + May 2017
Plus two aspects from Saturn in Sag to Jupiter
Jupiter square Saturn March + May 2016
Jupiter sextile Saturn Dec 2016/Jan 2017 + August – September 2017

Seems to be more difficult stuff during the first half of Saturn in Sag, but easier later on
Part 2: Patrick, Leisa, and Chris: Saturn in Sag in Natal Charts and Saturn Returns

In this segment we are going to talk more about what Saturn in Sag looks like in the natal chart, as well as what the Saturn return will look like for those who have it there.
Saturn in Sag in the 20th century:

December 2 1926 – November 29 1929
January 12 1956 – January 5 1959
November 17 1985 – November 12 1988

What are some of the themes that come up in the lives of people with Saturn in Sag?
What are some themes that come up during Saturn returns in Sag?

It is hard to differentiate between the two sometimes, so let's talk about both.

Patrick examples, batch 1:

Tony Abbott
Madonna
Stephen Fry

Leisa examples, batch 1:

David Good
Caroline Kennedy
Amanda Knox

Patrick examples batch 2:

Neil DeGrasse Tyson
NASA/Challenger/Sputnik/Mir. Future: expansion of commercial space travel.
James Randi

Leisa examples batch 2:

Amy Goodman
Elizabeth Smart
Judith Butler

Some Saturn returns in Sag we're looking forward to:

Shia LaBeouf
Pope Benedict XVI (Ratzinger)
Ronan Farrow
Lady Gaga

Keywords: To boldly go where no man has gone before.
Transcript
A full transcript of this episode is available: Episode 45 transcript
Listen to This Episode
You can either play this episode of the podcast directly from the website or download it as an MP3 to your computer by using the buttons below:
Podcast: Play in new window | Download (Duration: 2:18:31 — 63.6MB)
Subscribe: Google Podcasts | RSS | More