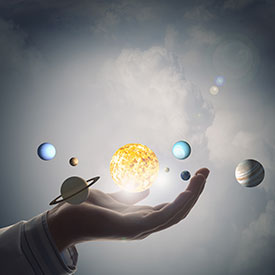 In the 40th episode of the podcast astrologers Kelly Surtees and Austin Coppock join the show to talk about the pros and cons of Sun-sign astrology.
The starting point for our discussion is a phenomenon where sometimes people  who are just getting into the study of more advanced forms of astrology go through a period of denigrating Sun-sign astrology as being "not real astrology."
During the course of the episode we explore the question of whether Sun-sign astrology qualifies as "real" astrology, talk about some of the positive and negative aspects of the subject, and then try to determine whether it has a net positive or negative impact on the field of astrology in general.
Outline of the Show
Below you will find an outline of some of the different topics that we touched on during the course of the show, followed by links to download or stream the recording.
Sun-sign columns started being produced in the 1930s and 40s, partially as a way to sell newspapers.

R.H. Naylor in the UK starting in 1930. Rival paper followed suit Edward Lyndoe.
Kim Farnell in the book "Flirting with the Zodiac" talks about how in the 13th BCE the Hittites determined a child's fate by the month of its birth.

Prior to the 20th century people didn't necessarily identify themselves with their Sun-sign as much as we do today. More likely to identify with their rising sign.
Before newspaper columns, the popular form of astrology was almanacs.
Pros
It is most people's gateway into astrology.
Keeps astrology alive in the public consciousness, more than it would be otherwise.
Provides an accessible introduction
The Sun is important in everyone's chart, and for some people it will be particularly descriptive.
It trains you to look at a single configuration from the perspective of all 12 possible risings.
It also aids in developing delineations that will be comprehensible to the laymen.
Writing them is great training for the apprentice astrologer
If reading sun sign columns, read for your ascendant sign as well as your sun sign (based on how they are often written).
Cons
Too simplistic.
Doesn't represent astrology or astrologers very well.
Gives people a false idea of what astrology is really like or what it can do.
Astrology is so much more than just sun signs
Easy target for skeptics.
Not all horoscope columns are written by astrologers, evidently.
Since most horoscope columns tend to be short they don't tend to be super useful. Like a sweet candy for your day/week/month. Often written to target audiences rather than to fully express the astrology. Typically the brief includes write 'up beat' rather than include cautions.
For some people their Sun-sign may not be as important as other placements, and thus they could be turned away from astrology rather than drawn into it due to this.
Transcript
A full transcript of this episode is available here: Episode 40 transcript
Listen to This Episode
You can either play this episode of the podcast directly from the website or download it as an MP3 to your computer by using the buttons below:
Podcast: Play in new window | Download (Duration: 1:09:31 — 32.0MB)
Subscribe: Google Podcasts | RSS | More