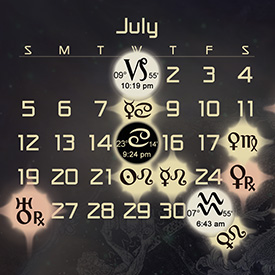 In this episode astrologers Kelly Surtees and Austin Coppock join the podcast to talk about the major astrological alignments in July of 2015.
We also discuss some auspicious dates for beginning different types of ventures, according to the rules of electional astrology.
This is the second time that Kelly and I have done a monthly forecast episode together, and the feedback on the last one was so positive that we plan to keep experimenting with it.
This episode is unique because it is the first time that we have had a discussion between three astrologers on the show at the same time, which is also somewhat experimental, although it seemed to work out well.
The cover art for this episode is taken from the PlanetWatcher 2015 Astrological Calendar, which we were given permission to use to us by its author, astrologer Kirk Kahn.
You can find out more information about Kelly's work at KellysAstrology.com, and you can find out more about Austin at AustinCoppock.com.
Outline of the Show
Below you will find an outline of some of the different topics that we touched on during the course of the show, followed by links to download or stream the recording.
Venus
Conjunct Jupiter on July 1 at 21° Leo/square Saturn at 28° Leo/Scorpio from July 12 – 16 (In the lead up to Venus retrograde, Venus in Leo makes two important but contrasting aspects, first a conjunction with Jupiter at 21 Leo and then a square to Saturn at the tail end of Scorpio, from 28° Leo to 28° Scorpio)
Retrograde starts July 24 at 0° Virgo.
Uranus stations RX 24 hours after Venus.
Saturn direct on August 1.
Venus will retrograde back to 14° Leo (September 5), so it is already in its shadow as of June 22.
Interesting how there is this sort of optimism initially where Venus entering its shadow is in Leo conjoining Jupiter, but by the time it stations direct in September Jupiter has left Leo and now Mars is there with Venus.
Mars in Cancer
Fall/frustrations
Opposite Pluto July 15 – 17 at 14° Cancer/Capricorn.
Square Uranus (as Uranus SR) July 24 – 27 at 20° Cancer/Aries.
Mercury on the Move
Mercury picking up pace, finally out of Gemini, whips through Cancer, makes same aspects as Mars (Mercury/Pluto July 14 and Mercury/Uranus July 19)
NOTE: Mercury makes a sweet-ass pair of sextiles to Venus and Jupiter early in July whilst still in Gemini.
Jupiter New Ground
Jupiter into new territory in Leo – beyond the limits of last retrograde (December 2014) – something stalled then now moves/new offer/opportunity for Jupiter in Leo (last?).
Saturn in Scorpio
Not dead yet!
Venus aspects in July/Jupiter + Mars aspect in early August
In its own bounds/terms at the end of Leo.
Auspicious Dates and Electional Charts
Download or Stream This Episode
You can either download this episode of the podcast as an MP3 or you can play it directly from the website by using the buttons below:
Podcast: Play in new window | Download (Duration: 1:06:45 — 30.7MB)
Subscribe: Google Podcasts | RSS | More