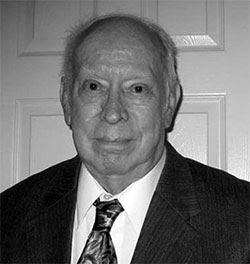 In the 27th episode of the show I'm joined by Demetra George in order to talk about the late astrologer James Herschel Holden.
Holden was an astrologer, historian, and translator who became the Research Director of the American Federation of Astrologers in 1982, and served in that role until he died on August 13, 2013 at the age of 86.
James is notable because he wrote one of the best books on the history of western astrology in 1996 titled A History of Horoscopic Astrology, and in the last decade of his life he also published many translations of ancient works on astrology.
During the course of the show Demetra and I talk about who Holden was, what kind of work he did, and the impact it has had or will have on future generations of astrologers.
Outline of the Show
Here are some of the topics that we touched on during the course of the episode:
Who was Holden?

He was a historian, linguist, and astrologer.

What did he do?

Wrote one of the best books on the history of astrology in 1996.
Published numerous translations of ancient texts later in his life.
Holden's fluency in many different languages gave him access to the entire tradition.

The importance of having multiple languages still.
Not always ok to rely on translations, even when they are available.

Research as an important topic in astrology that spans many fields. Not just scientific.
What has Holden's impact on the astrological community been?

What will it be in the future?

Interactions between astrologers and academia, for example in the history of science.
Significance of biography and history in understanding the work of astrologers.
Is studying/learning the history of astrology important for astrologers?

Can learning about the history of astrology make you a better astrologer?

The AFA's unique contributions to research through sponsoring Holden's work.
Holden's status as a retiree who did astrology as a sort of hobby.

The importance of "hobbyists" in our field, and the fact that they make up a large portion of it.
Not everyone who we might consider to be an "astrologer" is someone who supports themselves by reading charts full time.

Brief discussion about the upcoming AFA conference towards the end.

The 2011 conference was in honor of Holden, and he presented a paper there.
It was specifically focused on traditional astrology, which he had a huge impact on.
The upcoming conference also has a traditional bent, although not exclusively.
Transcript
A full transcript of this episode is available: Episode 27 transcript
Download or Stream the Podcast
You can either download this episode of the podcast as an MP3 or you can play it directly from the website by using the buttons below:
Podcast: Play in new window | Download (Duration: 1:08:07 — 31.4MB)
Subscribe: Google Podcasts | RSS | More