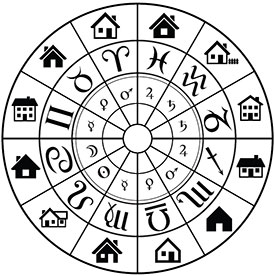 In the 25th episode of the show I talk with astrologer Ryhan Butler about the concept of reception, and a specific debate surrounding the technique and the way that it can be used as a mitigating for afflicted planets.
Ryhan is the author of the Starlight Knight Astrology blog, and he also recently launched a comprehensive online resource for the theory, techniques, and practice of medieval astrology called the Medieval Astrology Guide.
He has lectured on the topic of reception at the recent NCGR and ISAR conferences, and he's also published a series of articles on reception on the website of the Association for Young Astrologers.
The main point of the episode is a debate that has come up over whether reception acts as a mitigating factor when malefic planets are received by other planets, or whether it only acts as a mitigation when other planets are received by malefics.
We start the episode by introducing the concept of reception and talking about it a bit before launching into the debate.
Episode Outline
We start out by defining reception.
Chris speculates that the original definition was that it occurs when a planet aspects its domicile lord.

In the standard medieval definition the planet must be directly applying to an exact aspect with its ruler.

Abu Ma'shar says that it can be just by sign, but most medieval authors say it is primarily by degree.

Masha'allah only defines reception by domicile and exaltation.

Later expanded to include domicile, exaltation, triplicity, term, or face lord.

Sahl says that you need two of these lesser dignities at the same time to qualify.

Discussion about the terminology:

Latin: receptio: the act of receiving, reception, from recipio: to welcome, receive, admit.
Arabic: qubūl, from qabila – to accept or receive someone, agree, yield, approve, admit, accept.
Greek: ὑποδοχή – reception, hospitality, acceptance, support.

Some examples of reception.
What is the conceptual basis of reception?

Based on the guest/houst relationship between planets in a sign and their domicile lord.

Sahl talks about it as if the planets see each other as family or related and therefore welcome each other, versus not recognize each other as family and therefore refuse or disapprove of each other.

Pushing management: Planets push significations to other planets they apply to, that planet then decides what to do with it.

How does it work out in practice?

Mitigating factor for difficult applications.
Typically ensures success or ease.
Deborah Houlding's summary of Bonatti's statements on aspects with or without reception.

Segue into the debate over whether it still acts as a mitigation if malefics are received.
Discussion about textual support for the debate.
Discussion about it from a conceptual standpoint.

Possible difference between the role of reception in guaranteeing the perfection of a matter in a horary chart, versus acting as a mitigating factor in a natal chart.
Transcript
A full transcript of this episode is available: Episode 25 transcript
Download or Stream the Podcast
You can either download this episode of the podcast as an MP3 or you can play it directly from the website by using the buttons below:
Podcast: Play in new window | Download (Duration: 1:22:30 — 37.9MB)
Subscribe: Google Podcasts | Stitcher | RSS | More