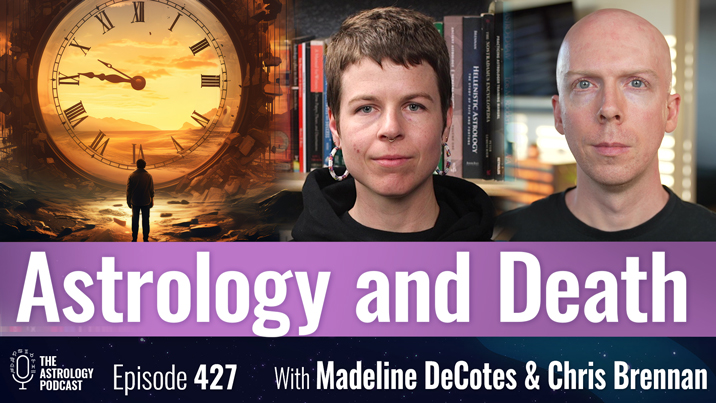 Episode 427 features a conversation between astrologers Madeline DeCotes and Chris Brennan about astrology and death, where we discuss the relevance of astrology in understanding and dealing with issues surrounding mortality, as well as related topics such as how astrologers cope with grief and loss.
We open by addressing the question of whether astrology can speak to the topic of death, and talk about some of the different ways that it can, both by looking at a person's birth chart and the charts of people who are close to them.
Eventually the conversation delves into the complexities of interpreting astrological indicators of death, as well as the need for caution, sensitivity, and ethics when discussing such topics.
The episode is meant to provide a broad exploration of the topic of astrology and mortality, highlighting the ways in which astrology can offer insights into the experience of death and the grieving process, and this lays a foundation for doing more detailed treatments of specific subtopics in future episodes.
This episode is available in both audio and video versions below.
Madeline's Website
Timestamps
00:00:00 Introduction
00:02:23 Can astrology speak to death?
00:08:17 Astrology reflects interconnectedness of lives
00:11:18 Multiple indications for important events
00:20:05 Mundane astrology and societal events
00:23:35 Astrology can symbolize personal tragedies
00:28:36 Importance of community in recovery
00:37:10 Astrology predicts life experiences symbolically
00:40:11 Astrologers cope with death
00:49:30 8th house experiences and loss
00:54:49 Eclipses can signify major life changes
01:00:39 Eclipses and death correlations
01:03:40 Loss and grief impact on individuals
01:10:50 The study of fate and fortune
01:17:30 Ethical concerns in predicting death
01:22:01 The need to specialize and study deeply
01:32:43 Astrology can help in coping
01:34:39 Astrology can provide reassurance
01:39:09 Finding meaning in difficult experiences
01:45:51 Finding meaning in grief
01:51:27 Hope in adversity
01:57:06 Empathy as a valuable gift
02:06:10 Embracing fate for inner peace
02:12:06 Astrology can offer healing
02:14:22 Support the Astrology Podcast
Watch the Video Version of This Episode
You can watch the video version of this episode on YouTube:
–
Transcript
A full transcript of this episode is available: Episode 427 transcript
Listen to the Audio Version of This Episode
Listen to the audio version of this episode or download it as an MP3:
Podcast: Play in new window | Download (Duration: 2:17:43 — 189.4MB)
Subscribe: Google Podcasts | RSS | More