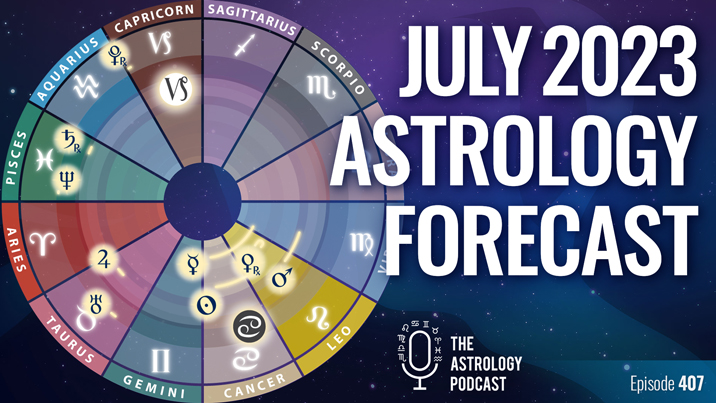 In episode 407 astrologers Chris Brennan, Austin Coppock, and Kira Sutherland look ahead at the astrological forecast for July of 2023!
This month Venus stations retrograde in the sign of Leo, and transiting Mars in Virgo opposes Saturn in Pisces.
At the top of the episode we discuss the astrology of some recent stories in the news, largely focusing on the first Saturn station in Pisces and how that coincided with a string of notable ocean related stories.
This episode is available in both audio and video versions below.
Sphere and Sundry
The Astrologers' Websites
https://www.chrisbrennanastrologer.com
https://www.astrologyofhealth.com
Auspicious Election for July
The most auspicious astrological date this month is July 30 at 6:35 AM, with Leo rising!
For other auspicious dates this month see our Auspicious Elections podcast:
https://theastrologypodcast.com/elections/
Our year ahead electional report is now on sale for 50% off:
https://theastrologypodcast.com/2023report/
Patreon for Early Access + Bonus Content
https://www.patreon.com/astrologypodcast
Venus Retrograde Worksheet
Chinese Translation of Chris' Book
Timestamps
00:00:00 Introduction
00:00:50 Quick overview of July astrology
00:01:48 Welcoming Kira and Austin
00:02:43 Apple announces new VR headset
00:04:35 Submarine and Saturn in Pisces
00:13:39 Orcas
00:17:41 Possible life on Saturn's ocean Moon
00:18:50 Lab grown meat approved
00:23:25 Russian rebellion
00:42:08 Sphere + Sundry sponsor
00:46:05 July forecast begins
00:47:45 Venus retrograde buildup
01:13:15 Capricorn Full Moon July 3
01:22:00 Mars-Saturn opposition applying July 10-20
01:38:00 New Moon in Cancer July 17
01:48:00 Venus stations retrograde July 21/22
02:12:54 Auspicious election July 30
02:15:25 Mercury into Virgo July 28
02:19:19 Kira, Austin, and Chris' offerings
02:26:21 Patrons, sponsors, end cards
Watch the Video Version of This Episode
Watch the video version of this episode on YouTube:
–
Transcript
A full transcript of this episode is available: Episode 407 transcript
Listen to the Audio Version of This Episode
Listen to the audio version of this episode or download it as an MP3:
Podcast: Play in new window | Download (Duration: 2:29:48 — 137.7MB)
Subscribe: Google Podcasts | Stitcher | RSS | More