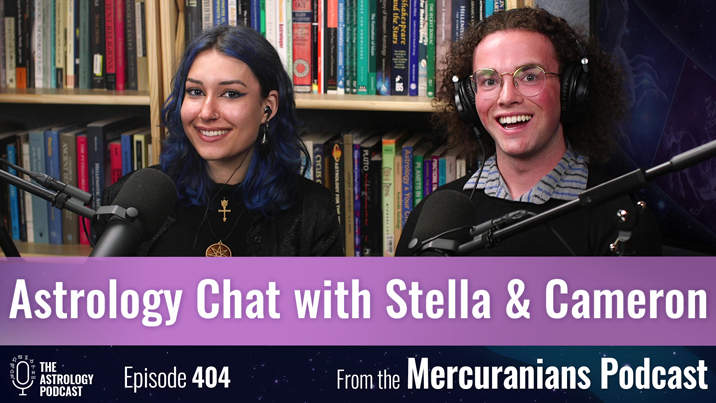 In episode 404 astrologers Stella and Cameron of the Mercuranians podcast stop by the studio for a casual chat about astrology with Chris.
Stella and Cameron were on their way back from the Northwest Astrological Conference in Seattle when they came through Denver on a road trip back home, so we decided to meet up a record a conversation where we talked about a bunch of different astrological topics.
During the course of the discussion we touched on topics like changes to the astrological community in the past 30 years, how newer astrologers deal with an overabundance of resources for learning astrology, and the role of chance and fortune in astrology.
You can find out more about Stella and Cameron on the Mercuranians YouTube channel:
https://www.youtube.com/@themercuranians
This episode is available in both audio and video versions below.
Timestamps
00:00:00 Intro
00:02:00 Benefits of astrology conferences
00:06:46 Changes in astrological community in the last 30 years
00:09:38 Synthesizing spirituality with astrology
00:12:30 Saturn in Pisces
00:15:40 Daimon
00:21:48 Astrological consensus
00:31:16 The observer effect in astrology
00:35:54 How to navigate all the astrological information
00:44:56 Importance of chance meetings and encounters
00:49:00 Finding an astrology teacher
00:59:13 Valens
01:03:33 Learning from journals and drafts
01:10:14 Rhetorius
01:15:04 Creative misunderstandings that lead to new techniques
01:18:51 Subjectivity vs. objectivity in astrology
01:33:38 Fortune
01:39:12 Dealing with difficult transits
01:43:10 Simplicity in interpretations
01:52:14 Science and astrology
01:57:59 AI
02:02:35 Stella and Cameron's podcast
02:09:30 Patrons, sponsors, and credits
Watch the Video Version of This Episode
Watch the video version of this episode on YouTube:
–
Transcript
A full transcript of this episode is available: Episode 404 transcript
Listen to the Audio Version of This Episode
Listen to the audio version of this episode or download it as an MP3:
Podcast: Play in new window | Download (Duration: 2:12:56 — 122.4MB)
Subscribe: Google Podcasts | Stitcher | RSS | More