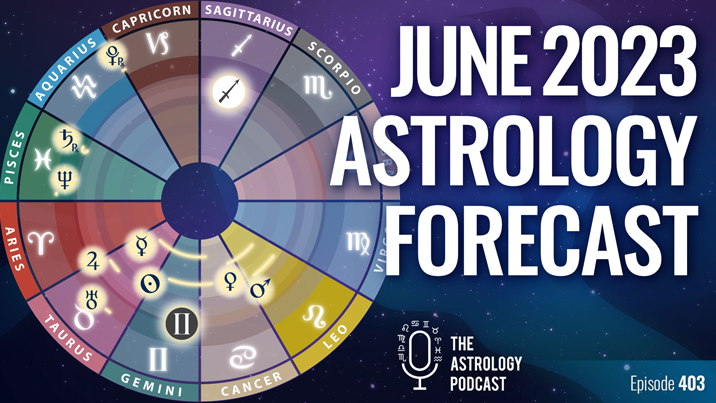 Episode 403 features a look ahead at the astrological forecast for June of 2023, with astrologers Chris Brennan, Austin Coppock, and Kirah Tabourn.
This month Venus ingresses into Leo and begins the pre-retrograde shadow period, Pluto retrogrades back into Capricorn, and Saturn stations in Pisces while Jupiter sextiles from Taurus.
Our lunations this month are a Full Moon in Sagittarius, and a New Moon in Gemini.
At the top of the episode we talk about some recent news and events, such as recent concerns over the safety of AI that were raised when Pluto stationed in Aquarius, as well as King Charles III being coronated under a Scorpio lunar eclipse.
This episode is available in both audio and video versions below.
Archetypal Explorer
https://www.archetypalexplorer.com
The Astrologers' Websites
https://www.chrisbrennanastrologer.com
Auspicious Election for April
The most auspicious astrological date this month is June 18 2023 at 11:56 AM, with Virgo rising.
For other auspicious dates this month our elections podcast:
https://theastrologypodcast.com/elections/
Our year ahead electional report is now on sale for 50% off:
https://theastrologypodcast.com/2023report/
Patreon for Early Access + Bonus Content
https://www.patreon.com/astrologypodcast
Timestamps
00:00:00 June astrology overview
00:02:18 Welcoming Kirah and Austin
00:08:42 Pluto station and AI safety concerns
00:18:45 400 episode milestone
00:19:42 Writer's strike
00:21:30 Aquarius, AI, and aliens
00:32:00 King Charles coronation eclipse
00:39:20 Ancient eclipse reports
00:45:35 Mercury retrograde stories
00:51:00 Firmicus Maternus
00:52:55 Ellen Black
00:55:50 Archetypal Explorer
00:59:10 June forecast begins
01:03:55 Venus retrograde shadow begins
01:33:40 Full Moon in Sagittarius June 3
01:46:15 Pluto returns to Capricorn June 11
01:47:45 Mercury in Gemini June 11 to 26
01:55:35 Jupiter sextile Saturn June 19
02:02:38 Auspicious date June 18
02:07:00 New Moon in Gemini June 17
02:18:55 Mars square Uranus June 25
02:25:55 Mercury cazimi June 30
02:33:00 Kirah's projects
02:34:00 Austin's projects
02:36:21 Chris's projects
02:38:00 Patrons, sponsors, credits
Watch the Video Version of This Episode
Watch the video version of this episode on YouTube:
–
Transcript
A full transcript of this episode is available: Episode 403 transcript
Listen to the Audio Version of This Episode
Listen to the audio version of this episode or download it as an MP3:
Podcast: Play in new window | Download (Duration: 2:41:05 — 148.0MB)
Subscribe: Google Podcasts | RSS | More