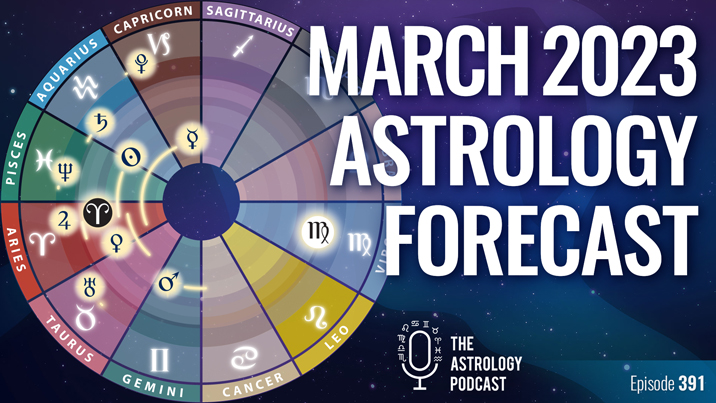 In episode 391 we look ahead at the astrological forecast for March of 2023, with astrologers Chris Brennan, Austin Coppock, and Leisa Schaim.
March is one of the most notable months of 2023 because it contains a number of planetary ingresses, such as Saturn moving into Pisces, Pluto moving into Aquarius, and Mars finally departing Gemini for Cancer.
At the beginning of the episode we talk about some recent stories in the news and how the astrology played out over the past month, and then in the second half we do a full analysis of the astrology of March.
This episode is available in audio and video versions below.
Donate for to Earthquake Relief Funds
https://www.reddit.com/r/Turkey/comments/10w7nbc/how_to_help_turkey_earthquake_fundraisers/
https://events.softgiving.com/donate/HasanAbiForTurkeySyriaEarthquakesFund
About the Astrologers
https://www.chrisbrennanastrologer.com
Auspicious Election for March
The most auspicious astrological date this month is March 22 around 2:00 PM, with Leo rising.
For more elections see:
https://theastrologypodcast.com/elections/
https://theastrologypodcast.com/2023report/
Patreon
https://www.patreon.com/astrologypodcast
Watch the Video Version of This Episode
Watch the video version of our March astrology forecast here:
–
Transcript
A full transcript of this episode is available: Episode 391 transcript
Listen to the Audio Version of This Episode
Listen to the audio version of this episode or download it as an MP3:
Podcast: Play in new window | Download (Duration: 2:10:11 — 119.5MB)
Subscribe: Google Podcasts | RSS | More