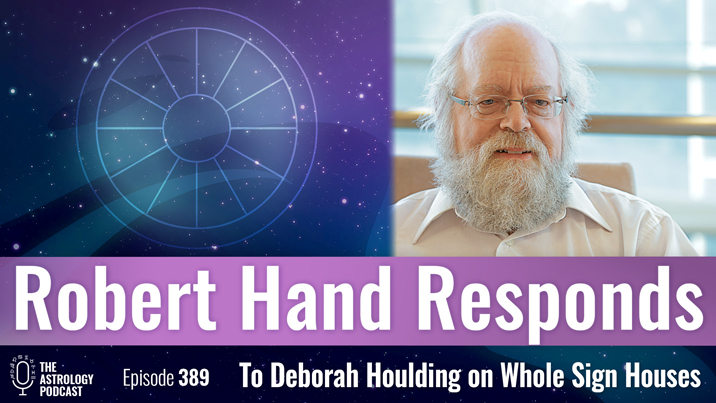 Episode 389 features an interview with esteemed astrologer Robert Hand where he responds to Deborah Houlding's recent claims about the history of house division, including some mischaracterizations that were about him personally, and sets the record straight about the recent history of the recovery of ancient astrology.
Rob was one of the three main founders of Project Hindsight, which was a translation project for ancient astrological texts in the 1990s.
In the interview we discuss the clear evidence for the existence of whole sign houses in ancient astrology, and Rob relates his firsthand accounts of the recovery of Hellenistic astrology, including sharing some stories about his time at Project Hindsight.
Along the way, Rob also shares some of his perspectives and experience from his 63-year career in astrology, and we hear about his life and work, as well some oral history about the recent recovery and revival of ancient astrology.
This is a followup to episodes 386 and 387, titled Deborah Houlding and Whole Sign House Denialism, and Demetra George Responds to Whole Sign House Denialism, and each of these episodes includes additional material and discussion about this topic.
You can find out more about Rob's work on his website:
This episode is available in both audio and video versions below.
Watch the Video Version of This Episode
Watch the video version of this episode on YouTube:
–
Transcript
A full transcript of this episode is available: Episode 389 transcript
Listen to the Audio Version of This Episode
Listen to the audio version of this episode or download it as an MP3:
Podcast: Play in new window | Download (Duration: 2:07:06 — 116.7MB)
Subscribe: Google Podcasts | RSS | More