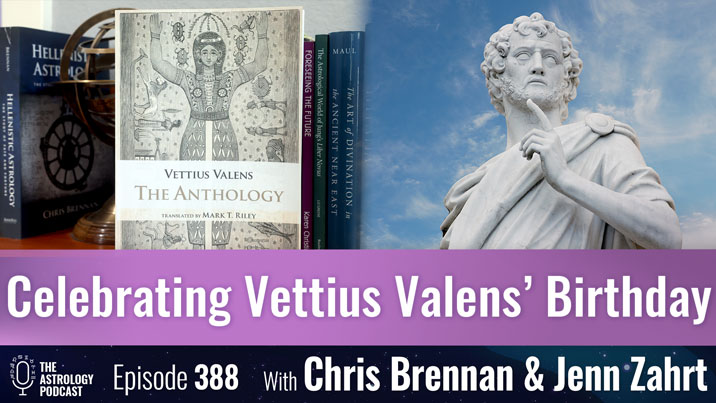 Episode 388 is a recording of an hour long webinar hosted by Chris Brennan and Jenn Zahrt where we celebrated the life and work of the 2nd century astrologer Vettius Valens last Wednesday, to mark the occasion of his 1903rd birthday.
The webinar was hosted by Jenn Zahrt of the CAELi Institute, which is an astrological research library that is available to the public in Olympia, Washington.
Last year Jenn helped me to publish a print translation of Valens by Mark Riley, and this was the first time the entire Anthology had appeared in print in English.
During the course of this episode we talk about Valens' life and work, and then we also answer some questions from a live audience that attended that day.
Since this episode was recorded right in the middle of the week where there were a lot of discussions about Vettius Valens in connection to debates about house division, that was addressed as well.
See the previous episodes 386 and 387 for more context about that debate.
I wanted to release this recording because it represents part of the discussions that week, and may help to contribute some pieces to people's understanding of the 2nd century astrologer who has recently become one of the major focal points of that discussion.
Sadly this week another major thing that happened is that a huge earthquake hit Turkey and Syria, and one of the towns that was devastated was the birthplace of Vettius Valens, a city named Antakya, Turkey, which is the ancient city of Antioch.
There are a number of charities that have been set up in order to help fund the earthquake relief efforts, and I've already made a donation, and I encourage all of my viewers and listeners to find a charity and donate some funds for the relief efforts if you can.
Donate to Turkey and Syria Earthquake Relief Efforts
Here is a link to a page with some  resources for reputable organizations you can donate to in order to help the people of Turkey and Syria:
https://www.reddit.com/r/Turkey/comments/10w7nbc/how_to_help_turkey_earthquake_fundraisers/
The one I researched and decided to donate to was this one:
https://events.softgiving.com/donate/HasanAbiForTurkeySyriaEarthquakesFund
CAELi Institute
Find out more about Jenn's Celestial arts Education Library:
Watch the Video Version of This Episode
Watch the video version of this episode on YouTube:
–
Transcript
A full transcript of this episode is available: Episode 388 transcript
Listen to the Audio Version of This Episode
Listen to the audio version of this episode or download it as an MP3:
Podcast: Play in new window | Download (Duration: 1:14:31 — 68.6MB)
Subscribe: Google Podcasts | RSS | More