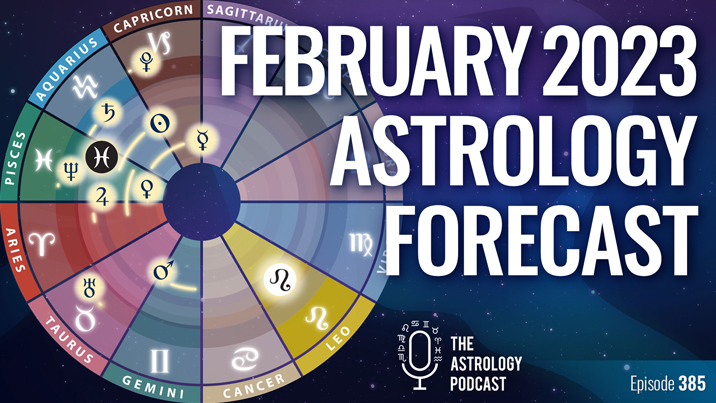 In episode 385 we look at the astrological forecast for February of 2023, with astrologers Chris Brennan, Austin Coppock, and Bear Ryver.
February is the final month of Saturn transiting through Aquarius and Mars through Gemini, and so it is a month of bringing things to completion and reflecting on how far you've come since those two transits started.
At the top of the episode we talk about the astrology of some recent events in the news, such as the release of Avatar 2 under the Jupiter-Neptune conjunction, AI starting to ramp up as a prelude to Pluto in Aquarius, and an entire generation successfully completing their Saturn return.
In the second half of the episode we get into the astrology of February, which includes Mercury finally moving into Aquarius after a long retrograde period in Capricorn, a Full Moon in Leo, and a new Moon in Pisces.
This episode is available in both audio and video versions below.
More About Chris, Austin, and Bear
Archetypal Explorer
Astrology Calendar Posters for 2023
TheAstrologyPodcast.com/merch/
Vettius Valens Book Chat on Feb 8
caeli.institute/event/vettius-valens/
Auspicious Election for February
The most auspicious astrological date for February is:
February 22, 2023 at 2:01 PM local time, with Cancer rising
For more auspicious dates in February see our electional astrology podcast.
For dates later in the year see our 2023 Year Ahead Electional Astrology Report!
Patreon
https://www.patreon.com/astrologypodcast
Timestamps
00:00:00 Introduction
00:00:41 Quick February Astrology Overview
00:01:48 Welcoming Bear and Austin
00:05:23 Reviewing astrology of recent news stories
00:09:44 Avatar 2 and Jupiter conjunct Neptune
00:22:38 Saturn returns in Aquarius finishing
00:45:30 AI and Saturn and Pluto in Aquarius
00:53:15 Mars direct in Gemini
01:00:10 Andrew Garfield an astrologer?
01:04:22 Younger astrologers coming into community
01:09:52 Archetypal Explorer sponsor
01:13:26 Astrology Christmas tree
01:14:00 February astrology forecast begins
01:16:08 Venus in Pisces square Mars in Gemini
01:23:11 Full Moon in Leo halfway between eclipses
01:28:40 Venus conjunct Neptune in Pisces on February 15
01:34:48 Mercury-Pluto conjunction
01:38:16 USA Pluto return
01:40:46 Holland USA chart
01:46:24 Mercury enters Aquarius
01:46:58 Sun conjunct Saturn in Aquarius
01:52:00 Saturn in Aquarius reflections
02:03:56 Sun enters Pisces and New Moon in Pisces
02:12:30 Auspicious date for February
02:16:30 Final alignments of February
02:17:24 Mars-Neptune square
02:20:25 Mercury conjunct Saturn and Venus conjunct Jupiter
02:28:33 Bear's offerings and contact info
02:30:13 Austin's offerings and contact info
02:32:20 Chris' upcoming episodes and Patreon
02:34:25 End credits
Watch the Video Version of February Astrology Forecast
You can watch the video version of February astrology forecast on YouTube:
–
Transcript
A full transcript of this episode is available: Episode 385 transcript
Listen to the Audio Version of This Episode
Listen to the audio version of this episode or download it as an MP3:
Podcast: Play in new window | Download (Duration: 2:39:13 — 147.1MB)
Subscribe: Google Podcasts | Stitcher | RSS | More