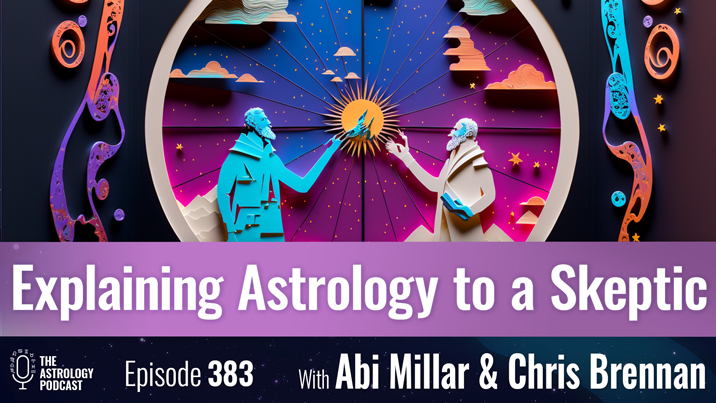 Episode 383 features an interview between astrologer Chris Brennan and science journalist Abi Millar, where Abi asks some questions about astrology from the perspective of someone who is skeptical but open-minded about the subject.
Abi is in the process of writing a book titled The Spirituality Gap, which will explore a range of spiritual practices and examine how people make sense of life in the modern world, and how this can be understood within the context of a scientific mindset.
As a science reporter, Abi was approaching the subject of astrology from more of a skeptical perspective, but said that she hoped to maintain a balance between skepticism and open-mindedness.
She asked to interview me for a chapter in the book that is going to be on astrology, and I agreed under the condition that I could record and release the discussion as an episode of the podcast.
I thought this would be a good opportunity to record an episode talking with someone who is skeptical but curious about astrology, and demonstrate how I would personally answer some of the questions about astrology that naturally come up in that context.
In some ways it is a continuation of a similar approach that I took in episode 288, which was titled Explaining Astrology to Non-Astrologers, and if you enjoy this episode then I'd recommend checking that one out as well.
This episode is available in both audio and video versions below.
Watch the Video Version of This Episode
Watch the video version of this episode on YouTube:
–
Transcript
A full transcript of this episode is available: Episode 383 transcript
Listen to the Audio Version of This Episode
Listen to the audio version of this episode or download it as an MP3:
Podcast: Play in new window | Download (Duration: 1:48:20 — 149.1MB)
Subscribe: Google Podcasts | RSS | More