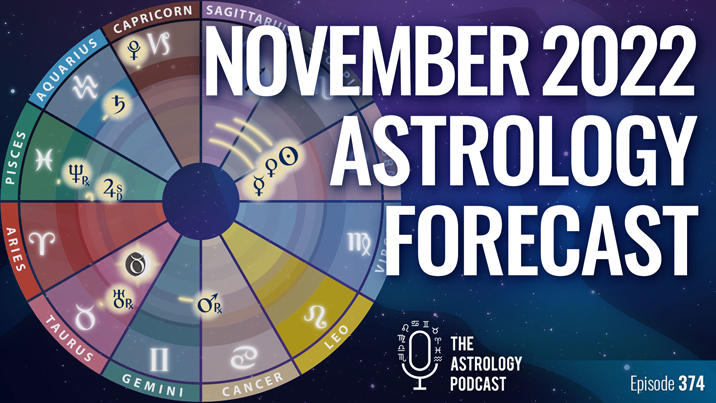 In episode 374 of the podcast we look ahead at the astrology of November 2022, with astrologers Chris Brennan, Austin Coppock, and Patrick Watson.
The astrological forecast for November features a lunar eclipse in Taurus conjunct Uranus, planets moving through Scorpio in the first half of the month activating the Saturn-Uranus square, and then planets moving through Sagittarius later in the month opposing Mars.
The month opens with Mars recently having stationed retrograde in Gemini, Jupiter retrograding back into Pisces, Saturn stationing in Aquarius. and a solar eclipse having taken place in Scorpio.
We open this special Halloween themed episode by reviewing some major news stories over the past month since our last forecast, and then we dive into talking about the month ahead.
This episode is available in both audio and video versions below.
Northwest Astrological Conference (NORWAC)
The next NOWAC is happening May 25-29, 2023 near Seattle!
Honeycomb Personal Almanacs and Calendars
Honeycomb almanacs and calendars are custom-built so you can track your transits!
Birth Time Rectification Course
Chris and Patrick just launched a new course for learning birth time rectification!
https://courses.theastrologyschool.com/courses/birth-time-rectification-course
2023 Electional Astrology Report
Chris and Leisa recently released their 2023 Electional Astrology Report:
https://theastrologypodcast.com/2023report/
The Anthology of Vettius Valens
Chris published a translation of the second century astrologer Vettius Valens:
https://www.amazon.com/Anthology-Vettius-Valens/dp/0998588911/
2023 Astrology Calendar Posters
Our 2023 astrology calendar posters have been released!
https://theastrologypodcast.com/merch/
​Chris, Austin, and Patrick's Websites
https://www.chrisbrennanastrologer.com
https://patrickwatsonastrology.com
Patreon
https://www.patreon.com/astrologypodcast
Video Version of the November Astrology Forecast
Watch the video version of our November astrology forecast here:
–
Transcript
A full transcript of this episode is available: Episode 374 transcript
Listen to the Audio Version of This Episode
Listen to the audio version of this episode or download it as an MP3:
Podcast: Play in new window | Download (Duration: 2:30:42 — 139.3MB)
Subscribe: Google Podcasts | Stitcher | RSS | More