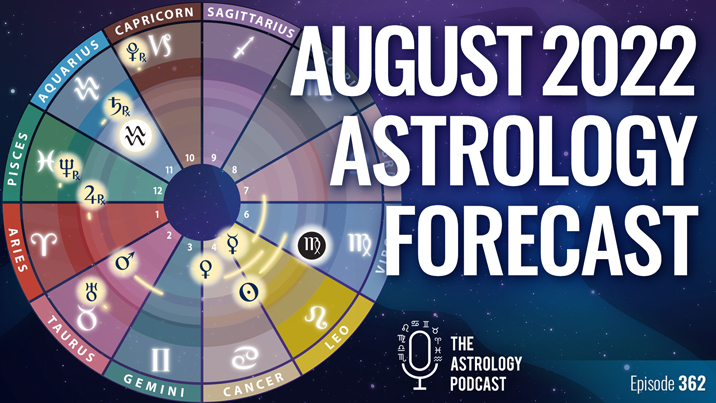 In episode 362 astrologers Chris Brennan, Austin Coppock, and special guest co-host Nick Dagan Best look ahead at the astrology of August 2022!
The astrology of August starts with a Mars-Uranus-North Node conjunction in Taurus on August 1, and then a few days later Mars squares Saturn in Aquarius.
The Full Moon in Aquarius takes place on August 11, emphasizing the fixed sign tension further, and then later in the month there is a New Moon in Virgo on August 27.
Late in the month, on August 20, Mars ingresses into Gemini. Mars will then stay in Gemini until March 2023, since it is going to turn retrograde later in the year.
At the top of the show we talk about some recent events in the news, including the continuing food shortages and recent instability in the markets, and then eventually get into the forecast for August.
This episode is available in both audio and video versions below.
ISAR Astrology Conference
The International Society for Astrological Research is hosting an astrology conference August 25-29, 2022 in Westminster, Colorado:
About the Astrologers
You can find out more about each astrologer on our websites:
Auspicious Date for August
The most auspicious astrological date for August is:
August 13, 2022, at 8:00 AM local time (Virgo rising)
For other lucky dates in August see our electional astrology podcast!
For good dates later in the year, see our 2022 Year Ahead Electional Astrology Report.
Patreon
Get early access to new podcast episodes and other bonus content by signing up for our Patreon!
https://www.patreon.com/astrologypodcast
Watch the Video Version of This Episode
Watch the video version of this episode on the astrology of August 2022:
–
Transcript
A full transcript of this episode is available: Episode 362 transcript
Listen to the Audio Version of This Episode
You can play the audio version of this episode of the podcast directly from the website or download it as an MP3 to your device by using the buttons below:
Podcast: Play in new window | Download (Duration: 2:29:56 — 138.6MB)
Subscribe: Google Podcasts | Stitcher | RSS | More