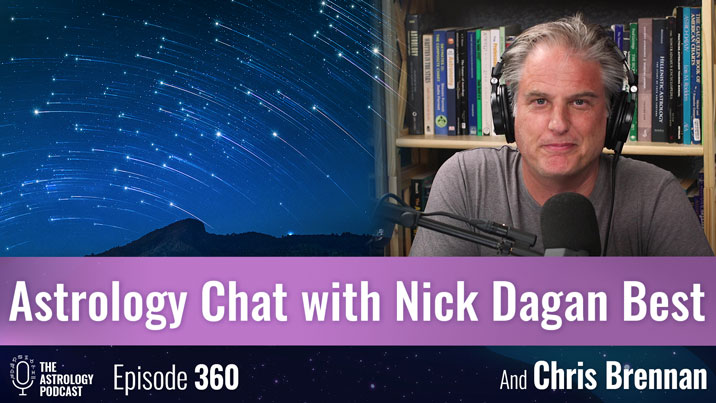 In episode 360 astrologer Nick Dagan Best joins Chris Brennan in the studio in Denver to talk about his work in astrology, including research on the Uranus return of the United States, Venus retrograde cycles, and more.
Nick flew out to Denver from July 7-11, 2022, and this was the first in a series of episodes we recorded. A lot of the episode ended up being biographical, talking about Nick's life and career in astrology.
We ended up spending a good chunk of the episode talking about the upcoming Uranus return of the United States when Uranus moves into Gemini in 2025 through 2033, and how that connects to the two previous Uranus returns that coincided with the Civil War and World War II.
Later in the episode we also ended up talking about some important new research Nick has done in tracking Venus retrograde cycles, and creating a new model for classifying different sequences.
You can find more about Nick on his website:
This episode is available in both audio and video versions below.
Timestamps
Timestamps for different topics discussed in the episode:
00:00:00 Intro and how Chris Brennan and Nick Dagan Best met
00:15:02 Nick's astrology background
00:19:53 Nick's natal chart
00:23:52 Noon vs. midnight ephemeris
00:32:02 How to put in "10,000 hours" as an astrologer
00:34:11 "Breaking news" approach to astrology
00:41:11 Nick's focus on biographies
00:55:55 Astrology books
01:00:46 How Nick was drawn to Hellenistic astrology
01:06:33 The Einstein intensives and Robert Schmidt
01:14:07 Star IQ website
01:17:25 Astro Live Link phone service
01:24:14 Eclipses
01:35:10 Demetra George
01:38:48 How to build a library of charts
01:49:56 Uranus in USA history
01:56:50 Working with national charts – France and Russia
02:09:19 Venus retrograde cycles
02:46:09 The last time Mars was retrograde in Gemini
02:51:50 2016 election
02:56:30 2020 pandemic
03:17:20 Nick's website and social media
03:20:53 Patrons and sponsors
Watch the Video Version of This Episode
Watch the video version of this astrology chat with Nick Dagan Best:
–
Transcript
A full transcript of this episode is available: Episode 360 transcript
Listen to the Audio Version of This Episode
You can play the audio version of this episode of the podcast directly from the website or download it as an MP3 to your device by using the buttons below:
Podcast: Play in new window | Download (Duration: 3:23:43 — 186.8MB)
Subscribe: Google Podcasts | Stitcher | RSS | More