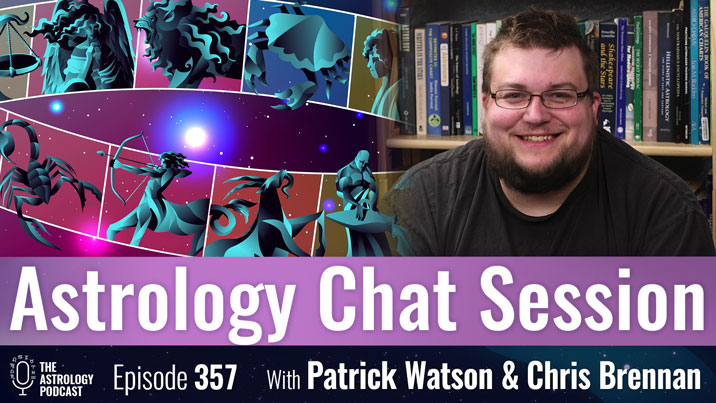 In episode 357 astrologers Patrick Watson and Chris Brennan answer some questions about astrology from listeners of the podcast, and discuss some miscellaneous astrological topics, ranging from understanding significant transits to the meaning of planets in detriment.
We start the episode by talking about how we met on an astrology forum in 2005, and our experience going from being the youngest astrologers at events to becoming solidly middle aged astrologers.
Then we begin with a discussion on the hidden but significant ways in which eclipses and other transits can manifest, and then eventually answer some questions from listeners.
We recorded this episode together in the studio in Denver while Patrick was here to record a new course we are creating on rectification.
You can find out more about Patrick on his website:
This episode is available in both audio and video versions below.
Timestamps
Here are some time stamps for when we discussed specific topics:
00:00:00 Intro and Patrick Watson's background
00:05:29 Transits that can only be understood in retrospect
00:12:39 The hidden power of eclipses
00:31:01 The 5th house and games
00:37:46 Uranus transits and rebelliousness
00:46:20 Fixed signs and change
00:49:02 Zodiac signs and seasons
00:55:00 The logic of the zodiac rulership scheme
00:57:19 Taking benefics for granted
00:59:50 Opinions on using celebrity charts
01:09:15 Astrology becoming more mainstream
01:14:20 Mars and weapons
01:19:15 When a benefic and malefic transits coincide
01:30:40 Planets in detriment subvert expectations
01:47:13 Avatar movie and Jupiter-Neptune conjunction
01:48:54 Benefits of modern astrology
01:56:04 How to discuss difficult transits with clients
02:04:03 What to prioritize when reading charts
02:16:17 Patrick's website and upcoming rectification course
02:17:18 Patrons and sponsors
Watch the Video Version of This Episode
Watch the video version of this episode with my astrology chat with Patrick:
–
Transcript
A full transcript of this episode is available: Episode 357 transcript
Listen to the Audio Version of This Episode
You can play the audio version of this episode of the podcast directly from the website or download it as an MP3 to your device by using the buttons below:
Podcast: Play in new window | Download (Duration: 2:20:37 — 129.1MB)
Subscribe: Google Podcasts | Stitcher | RSS | More