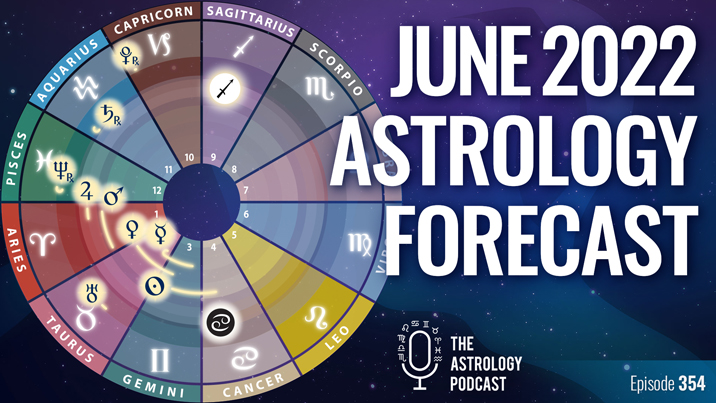 In episode 354 astrologers Chris Brennan, Austin Coppock, and special guest co-host Catherine Urban look ahead at the astrology of June 2022.
The astrological forecast for June begins with Mercury coming out of its retrograde and stationing direct in Taurus, while squaring a stationary Saturn in Aquarius.
Later in the month there is a Full Moon in Sagittarius on June 14, and a New Moon in Cancer on June 28.
Mid-month, the mood shifts after Mercury's return to Gemini, when we get four planets in their own domiciles: Mercury, Venus, Mars, and Saturn.
We open the episode by talking about the recent eclipses and other world events, and then transition into talking about the forecast for June.
This episode is available in both audio and video versions below.
About the Astrologers
You can find out more about each astrologer on our websites:
Ephemeris Astrology Birth Chart Pendant
Our sponsor this month is Ephemeris, where you can get customized pendants with your birth chart:
Each piece is handmade in the United States and can be customized with your favorite zodiac and house system.
Get a 10% discount with the promo code: ASTROLOGYPODCAST
Patreon
Get early access to new podcast episodes and other bonus content by signing up for our Patreon!
https://www.patreon.com/astrologypodcast
Auspicious Date for June
The most auspicious astrological date for June is:
🪐 June 26, 2022 at 10:55 AM (Virgo rising).
For more lucky dates in June see our electional astrology podcast!
For good dates later in the year, see our 2022 Year Ahead Electional Astrology Report, which is now on sale for 50% off!
Watch the Video Version of This Episode
Watch the video version of this episode on the astrology of June 2022:
–
Listen to the Audio Version of This Episode
You can play the audio version of this episode of the podcast directly from the website or download it as an MP3 to your device by using the buttons below:
Podcast: Play in new window | Download (Duration: 1:53:40 — 104.7MB)
Subscribe: Google Podcasts | Stitcher | RSS | More