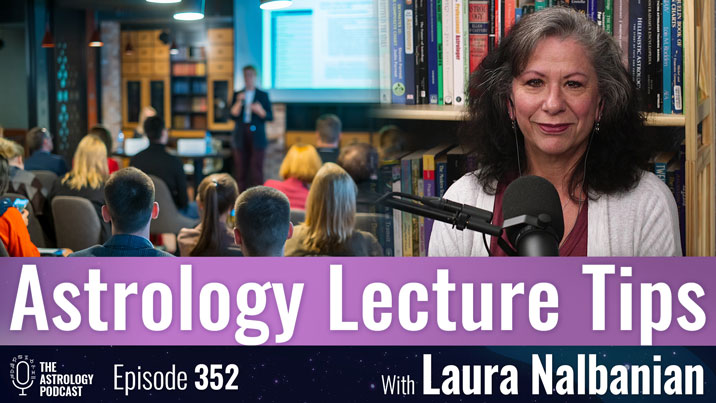 In episode 352 astrologer Laura Nalbandian joins Chris in the studio to discuss some tips for how to give a good lecture at an astrology conference.
Laura has been organizing astrology conferences for more than 20 years, and has a lot of experience identifying good speakers and teachers.
During the course of this discussion we talk about what is involved in organizing astrology conferences, and some different strategies for giving a great talk at one.
Laura is organizing the NORWAC and ISAR astrology conferences this year:
This episode is available in both audio and video versions below.
Timestamps
Timestamps for different topics discussed in this episode:
00:00:00 Intro and Laura's background
00:07:13 NORWAC and ISAR conferences
00:13:54 Project Hindsight
00:18:48 Tips for giving astrology lectures
00:30:25 Etiquette for attending lectures
00:32:05 Accommodations for deaf and hard of hearing attendees
00:36:00 The best ways to use slides when presenting
00:42:20 More tips for giving astrology lectures
00:53:30 Should you bring personal information into a lecture?
00:59:58 When lectures get hijacked by monologue questions
01:12:07 Verbal tics, body movement, and energy dynamics
01:21:23 Chris' early struggles giving lectures
01:23:43 Teaching vs. giving lectures
01:31:06 How to deal with glitches and anxiety during lectures
01:40:50 Speaker ethics
01:50:00 Astrologers who quickly progressed on the lecture circuit
01:54:04 How Laura discovers up and coming astrologers
02:02:57 Different lecture styles
02:12:57 How Laura arranges the schedule of speakers
02:22:08 Dress code
02:28:52 The importance of topics
02:34:34 Confidence
02:42:36 NORWAC & ISAR 2022
02:53:30 Patrons and Sponsors
Watch the Video Version of This Episode
Watch the video version of this episode on tips for giving a good astrology lecture:
–
Transcript
A full transcript of this episode is available: Episode 352 transcript
Listen to the Audio Version of This Episode
You can play the audio version of this episode of the podcast directly from the website or download it as an MP3 to your device by using the buttons below:
Podcast: Play in new window | Download (Duration: 2:56:49 — 162.5MB)
Subscribe: Google Podcasts | Stitcher | RSS | More