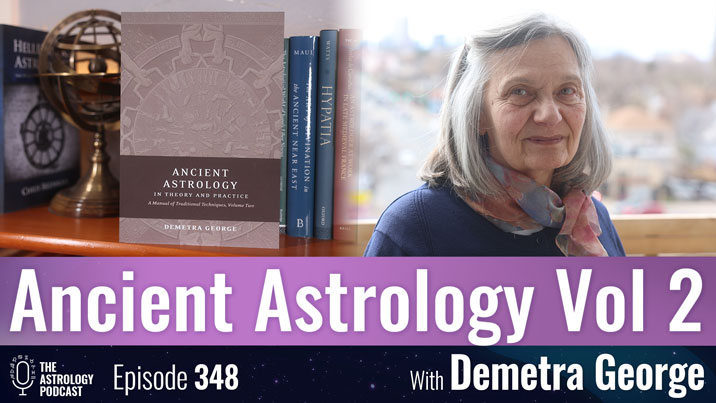 In episode 348, astrologer Demetra George discusses her new book, Ancient Astrology in Theory and Practice, Volume Two.
This is the second of two volumes where Demetra delivers a comprehensive look at the practical use of Hellenistic astrology, bringing to completion a cycle that started in 1993 when she became the very first subscriber of the Project Hindsight translation project.
In volume two Demetra takes a closer look at the houses and their role in interpreting a birth chart, taking special care to look at the significations of the houses throughout history, and tracing the common themes that run throughout the 2000 year long tradition.
In our discussion we focused mainly on talking about the significations of the houses, and how some of the significations changed over the course of the tradition, while other stayed the same.
The book was published by Rubedo Press on April 20, 2022, and can be ordered here:
Ancient Astrology Volume 2 on Rubedo Press Website
Ancient Astrology Volume 2 on Amazon
This interview was recorded on April 19, 2022, and released on April 25, 2022.
It is available in both audio and video versions below.
Watch the Video Version of This Episode
Watch the video version of this episode on Ancient Astrology Volume 2:
–
Transcript
A full transcript of this episode is available: Episode 348 transcript
Listen to the Audio Version of This Episode
You can play the audio version of this episode of the podcast directly from the website or download it as an MP3 to your device by using the buttons below:
Podcast: Play in new window | Download (Duration: 2:17:39 — 126.7MB)
Subscribe: Google Podcasts | Stitcher | RSS | More