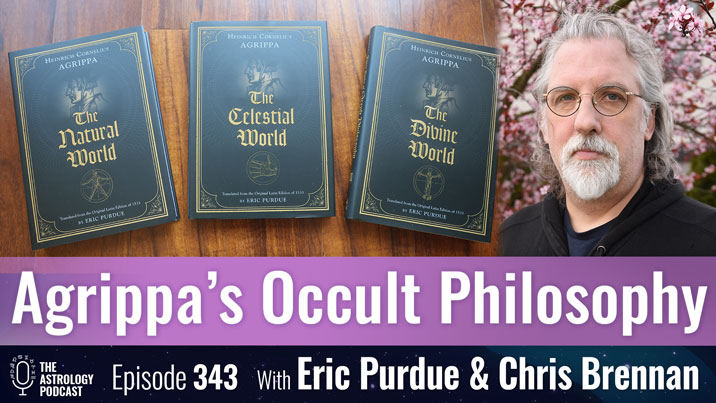 In episode 343 astrologer Eric Purdue joins the show to talk about his new translation of the Three Books of Occult Philosophy by Heinrich Cornelius Agrippa.
Agrippa published his Three Books of Occult Philosophy in 1533, and it is a compilation of astrology, magic, and philosophy.
After its publication Agrippa's work developed a very large influence and reach in the western esoteric tradition, as an important Renaissance compilation on occult lore.
The last time it was translated into English was in 1551, and Eric's translation improves on the previous one in a number of scholarly and stylistic ways.
Get the book here:
Three Books of Occult Philosophy, Purdue Translation
Find out more about Eric's work:
This episode is available in both audio and video versions below.
Watch the Video Version of This Episode
Watch the video version of this episode on Agrippa's Three Books of Occult Philosophy:
–
Transcript
A full transcript of this episode is available: Episode 343 transcript
Listen to the Audio Version of This Episode
You can play the audio version of this episode of the podcast directly from the website or download it as an MP3 to your device by using the buttons below:
Podcast: Play in new window | Download (Duration: 2:09:38 — 119.0MB)
Subscribe: Google Podcasts | Stitcher | RSS | More