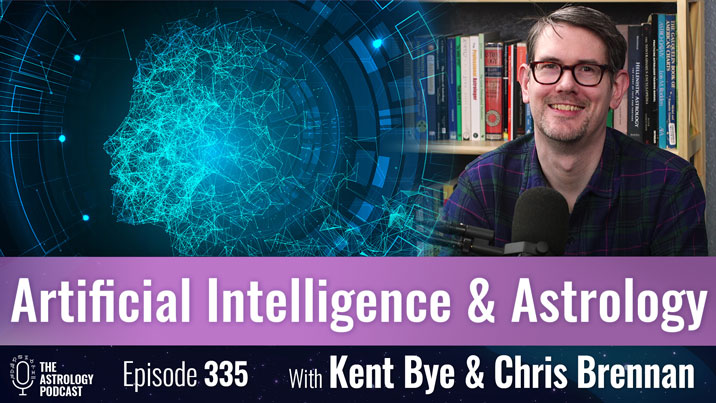 In episode 335 astrologer Kent Bye joins Chris in the studio in Denver to talk about artificial intelligence and consciousness through the lens of astrology.
Kent is the former host of the Voices of AI Podcast, and has conducted hundreds of interviews with different specialists in AI over the years.
During the course of the episode we cover topics such as whether it will ever be possible to replicate human consciousness with artificial intelligence, what planetary alignments in the future might coincide with this if it was possible, and whether astrology itself could be used as a model for consciousness.
This conversation was recorded the day after our previous episode on virtual reality and astrology, and was originally intended to be more of a casual discussion about artificial intelligence only available to patrons of the podcast, but the discussion went so well that I decided to release it as a full episode of The Astrology Podcast.
For more about Kent check out the Voices of VR Podcast:
This episode is available in both audio and video versions below.
Timestamps
Here are some timestamps for topics covered at different points in the episode:
00:00:00 Intro
00:03:18 Chris gets a VR headset after last episode
00:11:30 Artificial intelligence
00:19:30 Kent's birth chart
00:23:40 The astrology of artificial intelligence
00:34:14 The Turing test
00:38:12 Alan Turing's natal chart
00:39:15 Litmus tests for AI
00:42:47 Human relationships with AI
00:48:30 Stoicism, fate, and free will
01:04:06 Synthesizing planetary placements and AI
01:24:18 Horary astrology
01:30:00 The challenge for astrology in the next decade
01:33:40 Is astrology a language?
01:44:50 Consciousness and AI
01:56:22 Dystopian scenarios with AI
02:17:46 Different qualities of divination systems
02:20:59 Electional charts of AI
02:23:54 Electional chart of the episode
02:28:16 Outer planet cycles in 2030-2050
02:34:05 Kent's podcasts
02:35:59 Concluding remarks and sponsors
Watch the Video Version of This Episode
Watch the video version of this episode on astrology and artificial intelligence:
–
Transcript
A full transcript of this episode is available: Episode 335 transcript
Listen to the Audio Version of This Episode
You can play the audio version of this episode of the podcast directly from the website or download it as an MP3 to your device by using the buttons below:
Podcast: Play in new window | Download (Duration: 2:39:14 — 146.1MB)
Subscribe: Google Podcasts | Stitcher | RSS | More