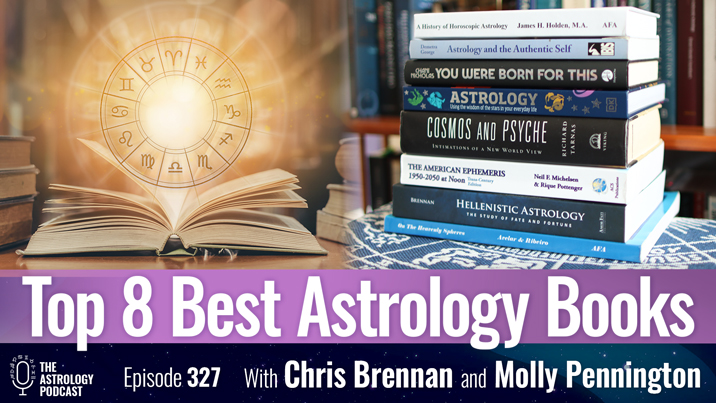 In episode 327 astrologers Chris Brennan and Molly Pennington talk about the top 8 best astrology books for beginner, intermediate, and advanced students of astrology.
Molly is working on an article for the Reader's Digest website on astrology books recommended by experts, and she contacted Chris to do an interview, so we recorded it for this episode of the podcast.
During the course of the discussion Chris gives his picks for the top 8 astrology books that every astrologer should have, and explains why they are good books to read.
The first 6 books are broken up into beginner, intermediate, and advanced categories, and then there are two bonus books at the end that are given an honorable mention.
This episode is available in both audio and video versions below.
List of the Top 8 Astrology Books
Here is Chris' list of the top 8 books for learning astrology:
Astrology: Using the Wisdom of the Stars in Your Everyday Life, by Carole Taylor
You Were Born for This: Astrology for Radical Self-Acceptance by Chani Nicholas
On the Heavenly Spheres: A Treatise on Traditional Astrology, by Helena Avelar and Luís Ribeiro
Astrology and the Authentic Self, by Demetra George
Cosmos and Psyche: Intimations of a New World View, by Richard Tarnas
Hellenistic Astrology: The Study of Fate and Fortune, by Chris Brennan
A History of Horoscopic Astrology, by James Holden
The American Ephemeris, 1950-2050, by Neil F. Michelsen and Rique Pottenger
View the list on Amazon: List of the Top 8 Astrology Books for Beginners
Timestamps
Here are some timestamps for topics covered at different points in the episode:
00:00:00 Introduction
00:02:10 Astrology: Using the Wisdom of the Stars, by Carole Taylor
00:14:12 You Were Born for This, by Chani Nicholas
00:38:11 On the Heavenly Spheres, by Avelar and Ribeiro
01:00:57 Astrology and the Authentic Self, by Demetra George
01:16:05 Cosmos and Psyche, by Richard Tarnas
01:55:11 Hellenistic Astrology, by Chris Brennan
02:20:52 A History of Horoscopic Astrology, by James Holden
02:22:50 The American Ephemeris, by Michelsen and Pottenger
02:27:25 Concluding remarks
Watch the Video Version of This Episode
You can watch the video version of this episode on the best astrology books here:
–
Transcript
A full transcript of this episode is available: Episode 327 transcript
Listen to the Audio Version of This Episode
You can either play the audio version of this episode of the podcast directly from the website or download it as an MP3 to your device by using the buttons below:
Podcast: Play in new window | Download (Duration: 2:32:13 — 139.7MB)
Subscribe: Google Podcasts | Stitcher | RSS | More